latest news
Habagat 2012 still worse than 2013 in most areas, PAGASA data shows
Thursday, August 22, 2013 12:00 AM Views : 2048
KIM LUCES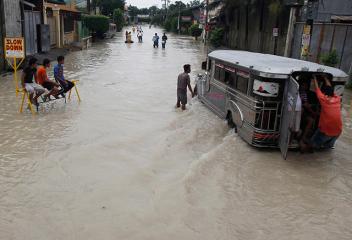 Despite the damage wrought by recent Habagat rains, weather data from PAGASA shows that the 2012 monsoon rains are still among the heaviest on record in recent history, with few exceptions.

GMA News Online compared the amount of rainfall recorded daily during both Habagat events from 23 PAGASA rainfall stations across affected areas of Luzon.

This data was then compared to the average expected normal amount of rainfall for August at each rainfall station.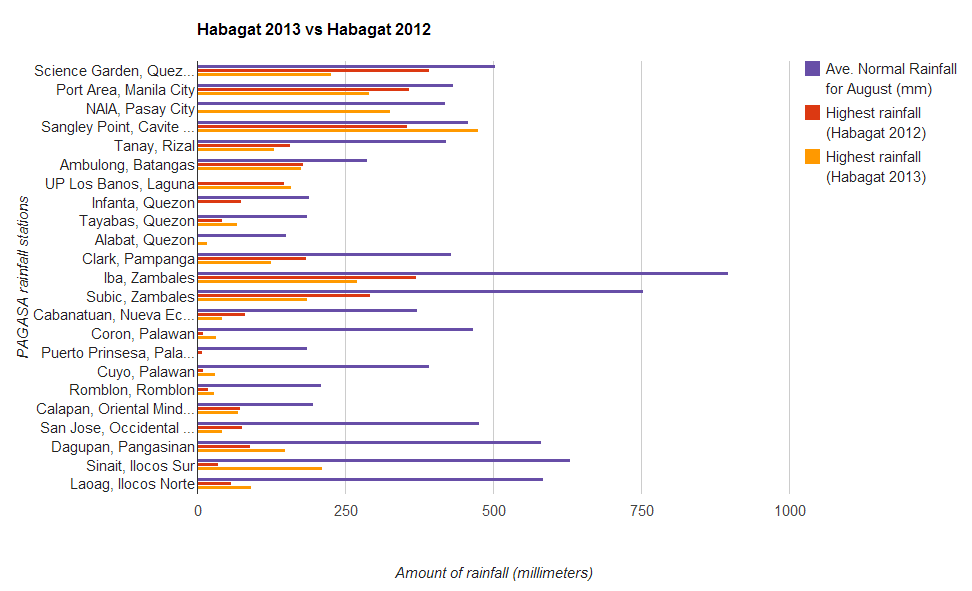 Overview

Athough this year's Habagat rains were considered heavy by many, PAGASA data showed that Habagat 2012's rainfall was heavier in most areas.

Overall, this week's Maring-enhanced Habagat rains proved weaker than those of Habagat in 2012—with the exception of some rainfall stations including those in Sangley Point, Cavite; Tayabas, Quezon; Romblon, Romblon; Dagupan, Pangasinan; Sinait, Ilocos Sur; and Laoag, Ilocos Sur.

Of these exceptions, Sangley Point stood out the most because 2013 rainfall at the station surpassed not only the 2012 Habagat record, but also the average expected amount of rainfall for the entire month of August.

In some stations—such as Dagupan, Sinait, and Laoag—rainfall in 2013 surpassed 2012 records, but still fell far within expected rainfall amounts.
Exceptional rains in Cavite

Rainfall records at Sangley Point showed that the station and the rest of Cavite province received more than a month's worth of rain on August 19 alone. This corroborates anecdotal evidence that Cavite was the hardest hit among all affected areas in 2013 in terms of the amount of rainfall.

Moreover, the National Capital Region (NCR) received heavier rains compared to areas in Calabarzon, Region 3, Mimaropa, and Region 1.

Yet, rainfall received by Manila and Quezon City from Habagat last year was still significantly higher than this year.

Habagat 2013

Readings from weather stations in the Port Area in Manila and in the Ninoy Aquino International Airport (NAIA) in Pasay City showed that these areas each received about half a month's worth of rain on August 18 this year.

The average normal amount of rainfall for August in Manila and Pasay are 432.4 and 418.4 millimeters, respectively.

The amount of rain in Manila rose only slightly higher the next day, August 19, while Pasay rainfall increased significantly from 255 millimeters to 326 millimeters.

These numbers dropped to 119.2 and 128.5 millimeters on August 20, reflecting the shifting monsoon rains as Maring moved northward.

Maring's continued influence

On the other hand, rainfall in Region 3—particularly in Clark, Pampanga; Iba and Subic, Zambales; and Cabanatuan, Nueva Ecija—gradually increased in succeeding days as the Habagat moved north, following Maring's movement.
Maring moved out of the Philippine Area of Responsibility early Wednesday, August 21, but its movement toward China pulled the Habagat rains toward Northerh Luzon.

PAGASA predicts monsoon rains in the southern part of Luzon to continue to subside until Friday, while rains in Northern Luzon might last until the weekend. — TJD, GMA News
Source: http://www.gmanetwork.com/news/story/323165/scitech/science/habagat-2012-still-worse-than-2013-in-most-areas-pagasa-data-shows