latest news
DOST-NCR Walks with Local Government of Marikina to Strengthen Shoe Industry
Friday, February 24, 2017 12:56 AM Views : 681
Edgilyn R. Alcasid, DOST-NCR
The Department of Science and Technology-National Capital Region (DOST-NCR) and the Local Government of Marikina, through the Marikina Shoe Industry Development Office (MASIDO) and the Philippine Footwear Federation, Inc. (PFFI), resolutely vowed to strengthen the shoe industry in the municipality by launching a new partnership that sought to streamline the skills of shoe manufacturers in the area.
Revving up the shoe trade in Marikina
After a series of meetings, DOST-NCR and MASIDO unveiled a project to revive Marikina's shoe manufacturing sector and make it more competitive. On February 6, 2017, the DOST-NCR-funded project titled, "Trainers' Training on the Operation of Machines and Equipment for the Shoe Industry in Marikina City" was launched in collaboration with the City Municipality of Marikina and MASIDO.
Some of the key officials who attended the opening ceremonies were Mr. Jose B. Patalinjug III, DOST-NCR Assistant Regional Director for Finance and Administrative Services; Mr. Roger Py, PFFI Director General; Dir. Emma Asusano, DTI-NCR Regional Director and Mr. Noel Box, Chief of MASIDO.
In brief, the project seeks to generate a pool of trainers from Marikina's shoe trade industry who will be in-charge of the demonstration, maintenance, and promotion of the use of available machineries in shoe making. The utilization of such technologies will improve the current shoe making practices in Marikina and similarly increase their production capability and capacity in shoe manufacturing.
The training was designed to run for 10 days at the Philippine Footwear Academy and will comprise a lecture series, along with hands on exercise for the use of various shoe making equipment.
But why is there a pressing need to augment support to Marikina's shoe making sector
Stuck in the old trade
While the local government of Marikina already made numerous efforts to strengthen their shoe industry, it remained to encounter various challenges.
One problem is the decreasing number of expert production line workers as most are not enthusiastic to venture in shoe making due to the anticipated small income or employment opportunities. This perception often leads to the employment of workers who have no formal training and with limited knowledge in the operation of shoe making machineries—undoubted constraints that can speed-up shoe manufacturing.
Likewise, majority of today's shoe making process is still being done manually which makes the production capacity and capability of local shoe manufacturers in Marikina tedious.
The local government of Marikina and MASIDO remain to face these challenges head on through the formulation of strategies, plans, and regulatory measures for the benefit of the municipality's players in shoe manufacturing. As such, MASIDO partners with other agencies to continuously maintain Marikina as the country's Shoe Capital. Its partners include the PFFI, an organization created to support the leathercraft and shoe making industry, and the Department of Trade and Industry (DTI). It also partners with other private and public institutions including the Technical Education and Skills Development Authority and most recently, with DOST-NCR.
Using S&T to streamline shoe making practices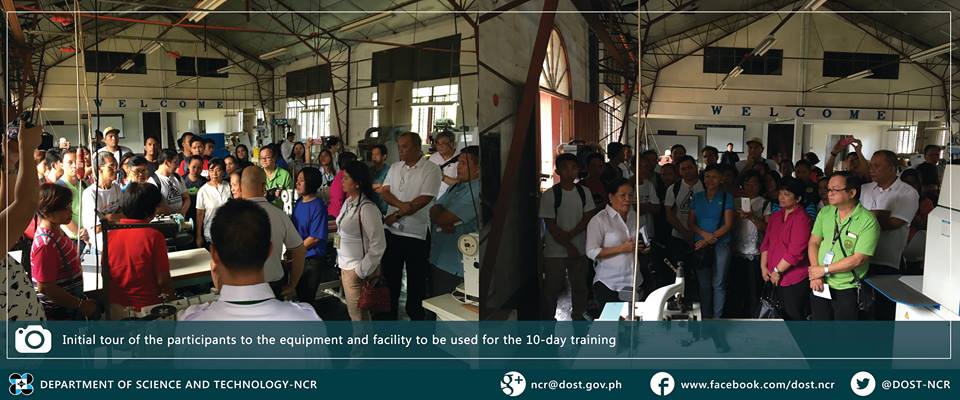 During the project launching, Mr. Py emphasized that PFFI is very determined to keep the shoe industry in Marikina alive by supporting initiatives that aim to strengthen it. He added that they are very grateful to the support provided by the local government of Marikina, DTI-NCR and DOST-NCR in their endeavors.
Meanwhile, Mr. Patalinjug stated that DOST-NCR is also committed to provide utmost support to rev up the shoe industry in Marikina. He added that DOST-NCR aims to deliver S&T assistance to the municipality's shoe manufacturers to improve their production capability. Through skills upgrading and assistance in operating shoe making equipment, DOST-NCR hopes to hone more skilled shoe makers that can train other Filipinos to excel in the field.
Mr. Patalinjug however reminded the participants to always remember where they came from upon the completion of the training.
"Nais ko lamang ipaalala na sana ay wag ninyong malimot na itong programa ay para mas paunlarin pa ang minamahal nating Marikina. Lagi ninyo sanang matandaan kung saan kayo nagmula upang ang industriya ng pagsasapatos dito ay manatiling buhay at patuloy na magbigay pangalan sa ating bansa," Mr. Patalinjug said.
The project is the first collaboration between DOST-NCR and MASIDO and is expected to result to a series of more partnerships that will revive the shoe manufacturing industry in Marikina.
Source: http://ncr.dost.gov.ph/index.php/8-home/217-dost-ncr-walks-with-local-government-of-marikina-to-strengthen-shoe-industry