latest news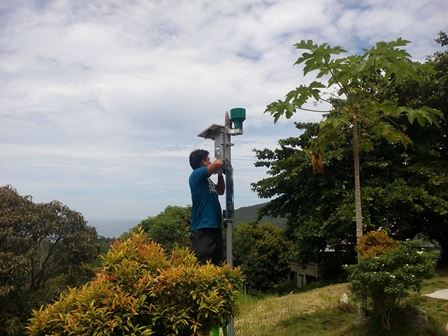 The Department of Science and Technology (DOST) in the region will be conducting a flood drill at Samuel Village, Brgy. Lizada, Toril, Davao City on May 18. The drill is part of the "Deployment of Early Warning Systems in Disaster-prone Areas (DEWS)" Project of DOST.
Through the project, hydrometeorological (hydromet) devices are installed nationwide as an effort to improve the risk reduction and management measures in the country.
To further strengthen and improve DRRM measures, particularly flood warning systems, 30 warning posts will be installed all over the region in a projected span of two years. The first warning post has already been installed in Samuel Village in Toril. Each warning station will have a siren, beacon, and a public address system.
According to DOST XI Assistant Regional Director Mirasol G. Domingo, a recent test conducted by DOST-Advanced Science and Technology Institute (ASTI) resulted to a 300 meter diameter audible sound.
The warning posts have 4 levels of warning. For each level, there is a corresponding sound followed by a spoken instruction. It can be manually triggered from the DRRM Office or from the warning post itself. This is made to serve as a signal for residents nearby to be alert and be ready for evacuation.
Representatives from the Provincial Disaster Risk Reduction Management Office per province are invited to attend the first flood drill. Basic flood protocols will be demonstrated.
Since the DEWS project started, 82 hydromet devices such as Water Level Monitoring System (WLMS) and Automated Rain Gauge (ARG) were installed all over the region.
Source: http://region11.dost.gov.ph/321-dost-xi-to-conduct-flood-drill-on-may-18-in-lizada-toril