latest news
DOST's Consultancy Services: A Tool for Growth
Tuesday, October 03, 2017 11:52 PM Views : 451
oneexpert

"Poverty is not a hindrance to reach my dreams. I realized that if you want to have a better life, you need to strive hard. With this, my heart is full of joy as God uses as an instrument to pursue my goals."
These were the words of Elvin Valle, an employee of Kirsten and Corrine (K&C) Footwear and Shoe Repair. Elvin was a student under the Alternative Learning System (ALS) of La Paz National High School in Iloilo City. He was then hired by his aunt, the owner of K&C, as one of her workers.
Elvin did his part. He learned the craft to the best of his abilities. When not in class, he chose to practice his skills in making these personalized flip flops. From there, he learned the ins and outs of the business – from planning, designing, sewing, and manufacturing.
Elvin's story is proof of how a local business can help the community in simple ways. True enough, Elvin's earnings in K&C allowed him to continue his schooling and provide for his needs.
Evidently, K&C Footwear and Shoe Repair is committed to a high calling geared towards entrepreneurial growth and social responsibility. It took effort in providing livelihood opportunities through the employment of several out-of-school youths in Iloilo City. In turn, the hard work and dedication of these individuals contributed significantly to the company's growth and success.
Another tool that catapulted K&C's market growth is DOST's technical assistance and consultancy programs. In 2013, it availed of DOST's Small Enterprise Technology Upgrading Program Innovation System Support Fund (SETUP-ISSF) amounting to Php 777,600.00 for the acquisition of S&T related equipment, namely: high frequency plastic welding machines, die cutter (different patterns), arm rock cutter, round mould, and high-speed sewing machine. It also availed of productivity consultancy under the Manufacturing Productivity Extension (MPEX) program.
With DOST's assistance, the business increased gross sales by over 100% and production to 1,910 slippers weekly from the usual 360 pieces. Lastly, K&C was also able to introduce additional products such as beach bags, mesh bags, and life jackets.
With the right tools, any business can reach greater heights. For K&C, it's through the labor of its employees and the chance to avail DOST's assistance.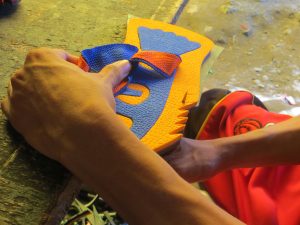 About Kristen and Corrine (K&C) Footwear and Shoe Repair
The company was established in 1998 when the owner started to create slippers with new fancy design. His products carry the name "Bagtas" which attracted tourists in Boracay Island. It is owned by Freddie Casio and located in Cor. Hechanova-Luna St., La Paz, Iloilo City.
Source: https://news.oneexpert.gov.ph/article/dosts-consultancy-services-tool-growth/