featured news
To further promote tourism in the municipality Los Baņos, Laguna, the Los Baņos Science Community Foundation, Inc. (LBSCFI) launched the development of science tourism in Los Baņos on December 6, 2017 at the Department of Science and Technology-Philippine Council for Agriculture, Aquatic and Natural Resources Research and Development (DOST-PCAARRD) Innovation and Technology Center (DIPTC).
This two-year project is a collaboration among the 22 member-agencies of LBCSCFI, Department of Tourism (DOT)-CALABARZON, Department of Education (DepEd)-CALABARZON.
Dubbed as the "Special Science and Nature City of the Philippines," the town of Los Baņos serves as a hub for local and international research institutions to collaborate for the advancement of research and development in the Philippines and its neighboring countries. In addition, Dr. Alexander R. Madrigal, LBSCFI President and DOST CALABARZON Regional Director, proudly shared during the program launching that Los Baņos is one the most active science communities in the Philippines due to the town's committed involvements in science endeavors.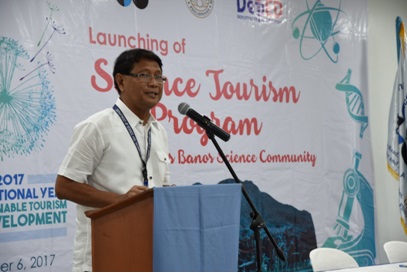 "We have to promote science at a deeper level so that the students, the public, and the private entities would realize that there is something more beyond these technology courses," said Dr. Madrigal.
Aside from promoting science and technology (S&T), the LBSCFI developed this science tourism branding to help increase the number of tourists visiting Los Baņos. As emphasized by Director Roberto P. Cereno, chair of LBSCFI Tourism Committee, the said science tourism branding is the first of its kind in the region and in the country so this is a huge step forward for the municipality of Los Baņos and the whole of CALABARZON as well.
Present also in the event was DOT-CALABARZON Regional Director Rebecca Labit. According to her, boosting the tourism in Los Baņos through this program would not only promote S&T in their region but more importantly, it would create jobs and opportunities for the locals in the area.
Further, Director Cereno also discussed during the launching of the event the strategic action plan for the development of Science Tourism. Generally, they're eyeing to promote science-based tourism products in the area such as the infamous buko pie and chocolate milk, science-oriented travel or visits in Los Baņos' heritage sites such as the Mount Makiling Forest Reserve, and science tourism events like theSyenSaya, their local adaptation of the National Science and Technology Week celebrated annually.
The program launching ended with a signing of memorandum of agreement (MOA) to formalize the partnership of LBSCFI spearheaded by LBSCFI President and DOST-IV A Regional Director Dr. Madrigal, with DOT-CALABARZON Regional Director Labit, and DepEd-CALABARZON Public School District Supervisor Dr. Allan G. Hostalero, in lieu of Regional Director Dr. Diosdado M. San Antonio.
(L-R:) LBSCFI President and DOST-IV A Regional Director Dr. Madrigal, DOT-CALABARZON Regional Director Labit, and DepEd-CALABARZON Public School District Supervisor Dr. Allan G. Hostalero present the signed MOA during the launching of Science Tourism Program in Los Baņos. (Text by Jasmin Joyce P. Sevilla & Photos by Gerardo G. Palad, DOST-STII)