featured news
There are social benefits and economic if all our time pieces are synchronized with the Philippine Standard Time (PhST), according to the Department of Science and Technology (DOST).
"As we encourage the public to synchronize all their watches with Philippine Standard Time, we would like also to promote good habits which are not being late and avoid making excuses in performing our respective duties and commitments," said Department of Science and Technology-Philippine Atmospheric, Geophysical and Astronomical Services Administration (DOST-PAGASA) Administrator Dr. Vicente B. Malano during the press conference for the celebration of National Time Consciousness Week held on 05 January 2017 at PAGASA Amihan Conference Room in Quezon City.
Republic Act 10535 or the Philippine Standard Time Act of 2013 set the Philipiine Standard Time in all official sources throughout the country. It also sets the National Time Consciousness Week every first week of January.
Dr. Malano said that if our offices, local governments, or private companies are giving an effort to synchronize time devices with PhST, it means that we put so much value on time management especially in delivering efficient kind of services to the public or to our client.
"It is very crucial for a government agency like us to recognize the importance of deadlines and call times, especially if we would like to increase our credibility to the public. It is about showing that we are committed to our responsibility and we make ourselves accountable if we cannot perform our task on time," Dr. Malano shared.
Meanwhile, for DOST's Science Technology Information Institute (STII) Director Richard P. Burgos, he believes that all industries, businesses, and professions, could gain lot of benefits if punctuality becomes serious practice for everyone.
"That is why we are celebrating this (National Time Consciousness Week) and we are encouraging everyone to sync their watches and clocks with Philippine Standard Time, to remind us that, if we practice ourselves to be always on time, we could generate more income, we could save more lives, we could build better career, and we could have a successful life," Dir. Burgos said.
Enacted into a law since 2013
The importance of synchronizing all time pieces is highlighted under RA 10535. The law also requires all government offices and media networks to use PhST as a basis to set their time pieces. The law also sets penalties for institutions that do not comply with the PhST requirements.
DOST-PAGASA has been the official time keeper of the Philippines by law since 1978.
Dr. Aristotle P. Carandang, chief of Communication Resources and Production Division of DOST-STII, shared the early adaptors of this law. These are DOST Region XI office in Davao City as first government office, San Pablo City in Laguna as first local government unit (LGU), and Cauayan City in Isabela as first LGU with all its barangays displaying digital clock in synch with the PhST.
Further, he shared that DOST activities are started on time and some adjustments are made so that programs are opened even when speakers or other involved individuals are not yet in the venue.
Dr. Carandang says, 'This our little effort that we would like to build on and work in order to increase the awareness of the public about Philippine Standard Time, especially its main goal which is to inject to every Filipino the importance of respecting everyone's time."
He also said that DOST-STII is the agency mandated by the law to conduct promotional activities related to PhST, including the celebration of National Time Consciousness Week.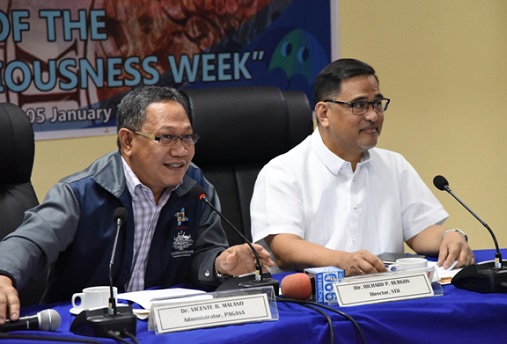 (Left) Dr. Vicente B. Malano, administrator of Department of Science and Technology- Philippine Atmospheric, Geophysical and Astronomical Services Administration (DOST-PAGASA), answers the various inquiry of media during the press conference for the celebration of the this year's National Time Consciousness Week held on 05 January 2018 at PAGASA Amihan Conference in Quezon City. He said that DOST encourages everybody to synchronize with the Philippine Standard Time as a way to develop good habits such as valuing time management. Also in photo is DOST-Science and Technology Information Institute Director Richard P. Burgos. (Text by Allan Mauro V. Marfal and photo by Gerardo G. Palad, DOST-STII)