latest news
DOST chief cites techs to address PH's environmental woes
Friday, July 12, 2019 12:59 AM Views : 102
Ma. Cristina Arayata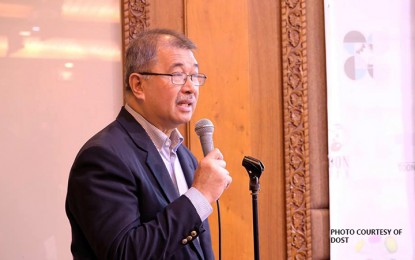 MANILA-- Department of Science and Technology (DOST) Secretary Fortunato dela Peņa on Wednesday cited the various strategies to address the challenges in the country's carrying capacity. 
During the two-day National Academy of Science and Technology's (NAST) annual scientific conference in Ortigas, Pasig City, dela Pena noted the DOST has developed different technologies and researches to address the matter. 
He defined the carrying capacity as the maximum capacity of an ecosystem to sustain and support a population with a tolerable sustained damage.
Among the major issues, he said, are plastic pollution, sustainable marine food security, sustainable education and talent development.
Dela Pena said prior to the annual scientific meeting, NAST has partnered with DOST regional offices to hold meetings to discuss these key topics. 
"This is in line with President (Rodrigo) Duterte's thrust to bring science closer to the people," he said.
To address the problem on plastic pollution, he said the DOST-Industrial Technology Development Institute (ITDI) has developed the electric plastic densifier, and the styro plastic densifier that could turn plastics and styrofoam into other materials such as bricks, plant boxes, and wires.
It also developed the biodegradable polymer, which he said, is an environment-friendly alternative to single-use plastic materials.
With regard to sustaining the country's "blue economy" or the sea-based economic sector, dela Pena said the DOST-Philippine Council for Agriculture, Aquatic, and Natural Resources Research and Development (PCAARRD) has provided research to address issues in the marine sector.
Among the PCAARRD-funded research and development (R&D) projects include a research to cut the invasive knifefish population in Laguna de Bay; a research to assess the human resource requirements for a robust aquaculture and fisheries development; as well as the Impact Assessment of the Closed Fishing Season Policy for Sardines in the Visayan Sea.
The PCAARRD also helps develop various aquatic products like mussels through its Mussels Industry Strategic S&T Program.
It also assists small and medium enterprises in producing live and frozen fish products through seminars and technical assistance.
Meanwhile, dela Peņa said though the country has an insufficient number of S&T experts, the DOST-Science Education Institute (DEI) helps in complementing the S&T human resource pool.
"We have the 'Filipino Patriot Scholars Project' that orient S&T scholars and inculcate in them a sense of patriotism, social responsibility and servant leadership," dela Pena said. 
The SEI also funds scholarship for Bachelor of Science, Master's degree and PhD degree.
The DOST continuously exerts efforts to strengthen the Balik Scientist Law, added dela Peņa.
Balik Scientists are S&T experts residing abroad and who are contracted to return to the Philippines to work and use their expertise at home. The law, meanwhile, ensures them of their benefits. (PNA)
Source: https://www.pna.gov.ph/articles/1074729