featured newsdata-numposts="5"
DOST's Engr. Sancho: As a leader, as an influencer
Wednesday, June 09, 2021 12:00 AM Views : 3421
S&T Media Service
PRESS RELEASE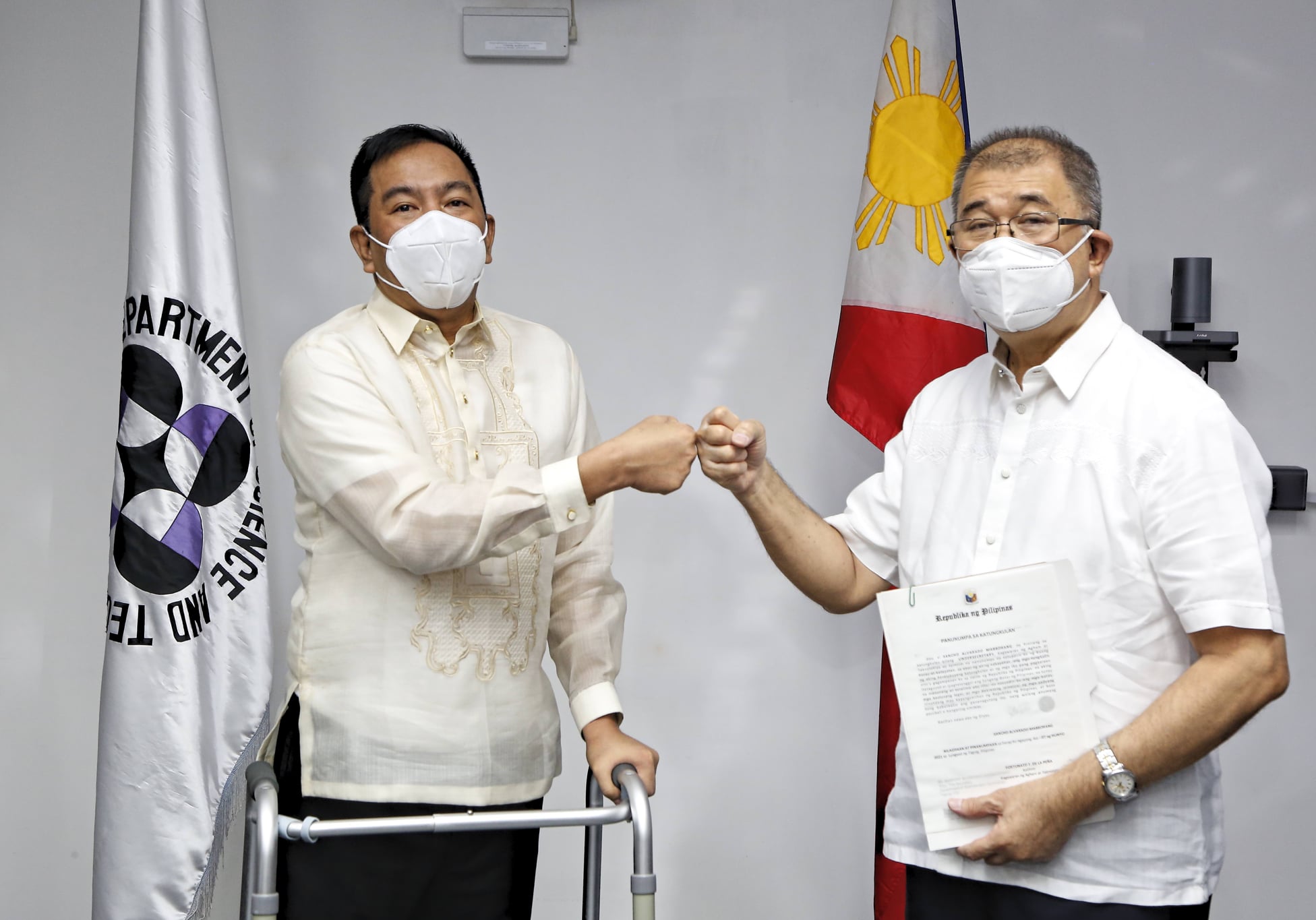 Newly appointed Undersecretary for Regional Operations of the Department of Science and Technology Engr. Sancho A. Mabborang (left) was recently shown in to office by Secretary Fortunato T. de la Peña.
Leadership refers to the quality of leading people, whether in groups or individually. Leaders have this trait that allows them to clearly and concisely communicate their intent to the people. They also have this wit that motivates those around them in order to reach greater heights of achievement.
Working in DOST Region II, I have observed these characteristics in one of our leaders and I had the privilege to work with our director, Engr. Sancho A. Mabborang and here are his notable characteristics.
As a leader
As the regional director of the Department of Science and Technology (DOST) Region II, Engineer Sancho A. Mabborang leads by example and not by mere commands. He is known to be a strong frontrunner, being the first to always take action in every event, program, or trainings. In simple words, he is the 'take-charge guy' in the regional office. Not only is this apparent to his colleagues in the DOST but also to the members of other major organizations in the region. Thus, making him a notable and respected leader in Cagayan Valley.
He is the brains behind some of the notable activities of DOST Region II. His competency resulted in the highly recognizable accomplishments by him in Cagayan Valley.
One of these accomplishments is the OneSTore.ph, an online marketing portal. The OneSTore team, led by him, started with only five members and is continuously growing even beyond the region. From concepts, ideas, and a purposeful vision, OneSTore now stands as the only government-managed e-commerce platform in the entire country. This innovative marketing hub carries the many products developed and produced by micro, small, and medium enterprises (MSMEs) that were assisted by the DOST under the Small Enterprise Technology Upgrading Program or SETUP.
In fact, his excellent implementation of the Small Enterprise Technology Upgrading Program (SETUP) in Region II warrants emulation. With the improved implementation of SETUP in the region and introduction of innovations, more MSMEs were provided with S&T interventions that helped them improve their productivity and competitiveness. This, resulted in the increase in their gross sales and contributed in employment generation of the assisted firms that led to the improvement of the economic status of Cagayan Valley.
Also, under his leadership, the following Research and Development (R&D) Centers were established: Cagayan Valley Small Ruminants R&D Center, Citrus Resources Research for Development in Cagayan Valley (crr4dcv), Cagayan Valley Freshwater R&D for Ludong and Eel, Cagayan Valley Cacao Development Center, Regional Yarn Production and Innovation Center, Smart Water and Infrastructure Management R&D. Furthermore, worth mentioning here were the four SETUP beneficiary firms that got ISO 9001 Certified through his efforts, namely: AMCC, AgriComponent, ACT Machineries, and Northern Asia Sales Corporation.
As an influencer
From his stance and area of influence, he has shown us that we should take up space and amplify voices when it comes to local, national and international issues and policies. As a leader and influencer, he contributed much in the attainment of the agency's strategic goals that included the accumulation of significant savings as a result of more efficient operations and implementation of relevant programs and administrative reforms. Despite this, he still remains the humble person that he is, with the traits that serve as a good example to his co-workers in government and colleagues.
In the office, he is a person with ethical values. His integrity in work stands out as he maintains transparency in all his activities. He loves to work with both his supervisors and subordinates and he gives them equal and fair treatment.
His charisma, style, and tone make him more relatable to the public. He speaks in front of teachers, farmers, agriculturists, professionals – all with words of reinforcement, making them realize that each of their contributions play a significant role in improving our society. Usually, Engr. Mabborang seizes every opportunity to speak in front of the people because he knows, given his position and responsibility, his words can somehow create a positive effect on people. He is the kind of leader that will help you realize that even you, no matter how small or big your work may be, can become a good leader to others.
SAM of both
They say, what makes a person a good leader is the sum of all his characteristics and beliefs. In the life of Engr. Sancho A. Mabborang, or SAM as we fondly call him, we can see that his brave exterior and honest heart are what make him an effective leader.
Truly, he is the SAM [sum] when you add the moral values, charisma, integrity, and good management skills of this humble public servant. And now that he has been appointed as the new Undersecretary for Regional Operations Services, we are certain that he would lead the regional offices of the DOST with the same amount of zeal and integrity he had during his time in Region II.