latestdata-numposts="5"
DOST-PCAARRD project seeks to expand oyster production in Quezon
Monday, September 12, 2022 03:37 AM Views : 293
Dhel Nazario
A project under the Science and Technology Program on Oyster of the Philippine Council for Agriculture, Aquatic and Natural Resources Research and Development of the Department of Science and Technology (DOST-PCAARRD) seeks to improve local products and produce safe and quality oyster harvest and expand oyster production in Macalelon, Quezon.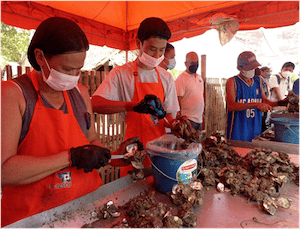 The farmers demonstrate shucking of oysters. (Photo courtesy of DOST-PCAARRD)
The project, called "Site Characterization and Implementation of Innovative Sustainable Oyster Systems (SCI2SOS)," led by Dr. Deo Florence Onda of the University of the Philippines Diliman-Marine Science Institute (UPD-MSI) was done in collaboration with a private company, Agricultural Sustainability Initiatives for the Nature (ASIN); a Non-Government Organization (NGO), Tambuyog; Bureau of Fisheries and Aquatic Resources Pagbilao (BFAR-Pagbilao); and the Local Government Unit of Macalelon, Quezon.
According to DOST-PCAARRD, it aims to expand oyster production in Quezon by adopting the raft and long-line culture methods developed by the Southeast Asian Fisheries Development Center (SEAFDEC) and Samar State University (SSU).
"This environment-friendly culture method will determine site suitability for sustainable community-based oyster cultivation, and establish a collaborative and science-based, industry-oriented, and sustainable oyster culture with access to market," it said.
DOST-PCAARRD added that recently, the Marine Resources Research Division (MRRD) led by its Division Director, Dr. Mari-Ann M. Acedera of DOST-PCAARRD conducted monitoring, evaluation, and field visit in Macalelon, Quezon.
The SCI2SOS project is funded by DOST-Grants in Aid (GIA) under the Collaborative R&D to Leverage PH Economy (CRADLE) program that aims to enable technological advancement and innovation of local companies and to support the growth of the Philippine Innovation ecosystem.
Through the program, the academe and/or research and development institute (RDI), in partnership with a Filipino company, undertake research and development to improve the company's products, processes, and services to become more competitive in their respective industries. This way, research outputs from the academe are directly translated commercially to the market.


Source: Philstar website