featured news
For parents, how to prepare healthy meals for school kids
Monday, May 28, 2012 12:00 AM Views : 1953
Alexander Villafania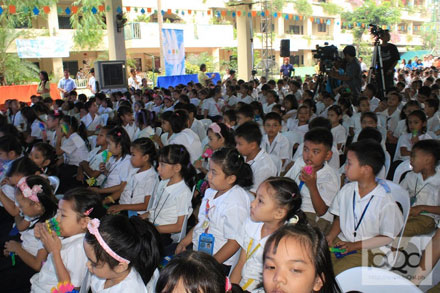 QUEZON CITY, METRO MANILA – If there is one thing that school-aged children need to have before going to school is to have a good, healthy meal.
Unfortunately, many young Filipinos are malnourished, which affects their lifestyles.
In fact, as studies shown by the Department of Health (DOH) and the Department of Education (DepEd), malnourished school children are most likely to fail in their studies and could drop out.
As stated by DepEd Secretary Mario Montejo, malnourished school children tend to perform the least in class because they are either hungry or the food they eat is not healthy. There is also a correlation between hunger among pupils and dropouts.
Both government agencies have been working together to conduct food and health programs in an effort to improve the attendance and participation of young Filipinos in school.
Some of these programs include school farming projects and feeding programs. The Department of Science and Technology (DOST) has also jumped in with some feeding programs as well as information drives to teach parents on meal planning, proper nutrition, among others.
This coming school year, parents are advised to provide the right nutrition to their children if they are to perform well in class.
Here are a few tips on how to prepare your child's nutritional requirements before going to school.
Prepare a list of foods based on the physical requirements of children – Following the food pyramid is one way of preparing food items. However, children at different stages also change their food habits as well as their requirements. Consult a pediatrician or a nutritionist on what food types should be given to children.
Set schedules for meals – While following the three-meals-a-day course, it is also best to know your child's schedule at school to better prepare their meals. There are schools that start very early (especially in heavily-populated public schools) and as such, children must be given the right amount of food to allow their bodies to adjust.
Know your child's habits – Children can be very picky about food. There are parents who complain that their children do not eat home-prepared meals. However, there are ways of getting a child to eat proper food and one is identifying what they like. There are many types of food that are healthy but are close to what children like. Teaching kids to know the value of what they eat would also help them understand their food requirements.
Make mealtimes as relaxed as possible – Children also consider mealtimes intimate and by having the family around, they will also get to be more open about themselves. Parents should also find this as an opportunity to know more about their children's needs.
Be good examples to children – Parents must also set examples for their kids to follow. Taking time to prepare food for kids must also mean giving time to prepare meals for themselves. Parents must also eat what their children are eating to allow kids to understand why they have to partake of specific types of food. Remember that parents influence how children think.

Source:http://loqal.ph/home-and-living/2012/05/28/for-parents-how-to-prepare-healthy-meals-for-school-kids/