latest news
PSHS students dominate Asean science tilt
Friday, June 22, 2012 02:18 AM Views : 2401
Newsbytes
Students from the Philippine Science High School – Western Visayas Campus in Iloilo was declared grand champion in the Asean+3 Junior Science Odyssey held on June 10-17 in Brunei.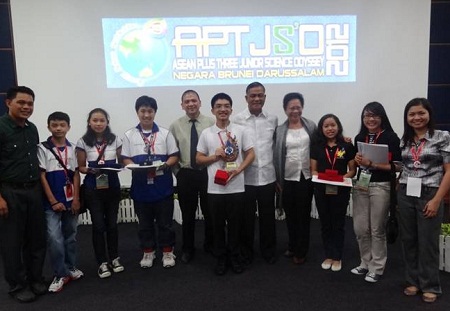 The victorious Philippine team
Bagging seven gold medals for the championship in the ten-country competition are Ina May Sison, Magin Benedict Ferrer, and Vicah Adrienne Villanueva.
Meanwhile, PSHS-Central Luzon (Clark) students Gabriel Pineda, Gabriel Sophia Seva and Michael Eubanas won four silver and one bronze medals in the same tilt, bringing a total of 12 medals for the Philippine team.
In the groundbreaking of a new PSHS campus in Koronadal City June 21, DOST secretary Mario Montejo underlined the achievement of the Filipino students.
"That the Philippine team was able to beat the long-standing winners in this competition just shows that PSHS students are world-class," he said.
Second place went to the Korea Science Academy team of the Korea Advanced Institute of Science and Technology, while third place went to the Hwa Chong Institution team of Singapore.
In biology, the team of Sison, Ferrer, and Villanueva grabbed the top prize for the study "Differences in leaf morphology of plants in the Andulao rainforest", while Seva's team placed second for the study "Variations in microclimate and soil characteristics in the tropical rainforest of Bukit Sawat."
Meanwhile, Pineda's team won the bronze for the study "Seedling abundance, density, height and size-classes distribution in a tropical rain forest in Bukit Sawat, Brunei."
Individual scores were added to the team score to get the over-all final score for each country.
"The APT JSO is the equivalent of the International Science Olympiad in Asia," said PSHS System executive director Josette Biyo who accompanied the team herself. "It is a science competition that assesses laboratory skills in chemistry, biology, and physics."
For the lab skills assessment, the contenders were grouped into teams of three members from the same country. They were tasked to do titration experiment for chemistry on which they were judged based on the accuracy of their individual titrations.
For physics assessment, the students experimented with dye sensitized solar cells using natural pigments obtained from plants of Brunei's tropical rainforest.
For biology assessment, the students studied the flora and fauna, including the microclimate in two of Brunei's rainforests. Their findings were presented to a panel of judges and to student and teacher participants. They were assessed based on teamwork, skills, effort, and communication skills.
Organized by the Asean Center for the Gifted in Science, the eight-day event drew 70 gifted students with ages 13-15 years from Brunei, Indonesia, Malaysia, China, the Philippines, Korea, Singapore, Thailand and Vietnam. Sweden also participated in as an observer country.
Hosting the event was the Brunei Ministry of Education in collaboration with the Universiti Brunei Darussalam and the Brunei Ministry of Development. The Philippine team was coached by Flordeliza Remonde and Arnold Pitpetunge of PSHS Western Visayas and Central Luzon campus, respectively.
Source:http://newsbytes.ph/2012/06/22/pshs-students-dominate-asean-science-tilt/