featured news
Department of Science and Technology 8 and Philippine Institute of Volcanology and Seismology Directors Edgardo M. Esperancilla and Renato U. Solidum, Jr. received the Gawad Career Executive Service (CES) presidential award last May 30, 2012.
Both were awarded presidential citations and cash prizes by Executive Secretary Paquito N. Ochoa Jr. in a ceremony held at the Heroes Hall of Malacañang Palace.
Engr. Esperancilla and Dr. Solidum were among this year's five recipients of the Gawad CES award, given yearly by the Career Executive Service Board (CESB) to career executive service officers who 'have shown excellent performance, nobility of character, and excellent leadership in their respective fields'.
DOST Secretary Mario G. Montejo said that the recognitions only prove that excellent people lead the DOST agencies. "The awards show that we have excellent leaders who are working sincerely in delivering DOST services to the people and the community," he added.
Engr. Esperancilla was recognized for his solid support to Region 8's micro, small, and medium enterprises in three specific industries; namely, coconut, essential oil and natural fibers. His innovative approaches and strategies also led to an increase in number of S&T scholars and examinees in the region in the last five years.
The DOST regional director was also the man behind the regional office's successful ISO certification, and was noted for envisioning the Technology Business Incubator (TBI) for information and communication technology (ICT)-based SMEs. This, through the support of the Technology Application and Promotion Institute (DOST-TAPI) and the provincial government of Leyte, provided the SMEs necessary support and resources to harness their ideas to commercial fruition.
PHIVOLCS Director Dr. Solidum, meanwhile, was lauded for spearheading the Tsunami Risk Mitigation Program. This consisted mapping of the country's tsunami prone areas along with tsunami education, awareness campaign, and capacity building of Local Government Units (LGU). He was also noted for improving DOST-PHIVOLCS' monitoring and communication capabilities (for both tsunami and earthquakes).
In addition, the earthquake expert was extolled for paving the way for the development of multi hazards information campaign and detailed mapping. Through solid collaboration with several government agencies, this resulted to better safeguarding of communities from natural risks.
Lastly, Dr. Solidum was instrumental in the approval of several important internationally funded projects that promoted effective utilization of hazards information and improved the understanding of earthquake, tsunami and volcanic processes in the country.
"I'm very happy (with the Gawad CES), but essentially this is for the whole PHIVOLCS family," said Dr. Solidum of the award. "I had to share my ideas and guide the agency, but the accomplishments were the fruits of team effort."
Meanwhile, Dr. Esperancilla told that his award is dedicated to the DOST 8 family "who worked beyond what is expected of them."
"Our goal was simply to provide better S&T services each time and make a difference in the lives of the people we serve. Our joy comes everyday from the warm smiles of our clients who are satisfied with out services. This award comes as a bonus and we thank CESB for the recognition," he added.
Dr. Solidum has been in the government for 28 years, while Engr. Esperancilla had 29 years of government service.
Dr. Solidum never left PHIVOLCS since 1984, after finishing his Bachelor's degree in Geology in UP Diliman. He attained his Masters Degree in Geological Science from the University of Illinois and completed his PhD in earth Science at the Scripps Institute of Oceanography, University of California in San Diego.
Engr. Esperancilla, meanwhile, worked first for the Department of Trade and industry (DTI) before joining DOST in 2003. He graduated with the Bachelor's degree in Mechanical Engineering from the University of Iloilo, and earned his Master's degree in Business Management at the University of the Philippines-Visayas.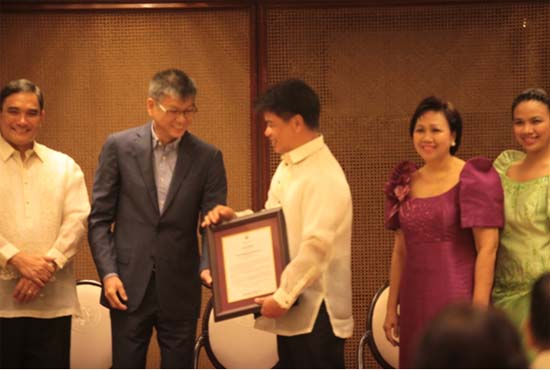 DOST Region 8 Director Engr. Edgardo M. Esperancilla (middle) received the Gawad Career Executive Service (CES) for his remarkable support to the region's micro, small, and medium enterprises (MSMEs) and innovative approaches to upgrade science and technology (S&T) services. Executive Secretary Paquito N. Ochoa Jr (in coat and tie) handed the presidential citation to the DOST director at a ceremony held in Malacañang, wherein the latter was joined by his wife and one of his three daughters.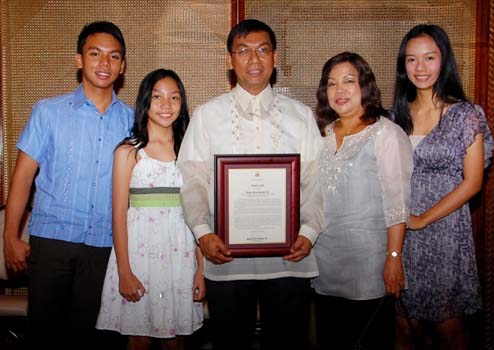 Dr. Renato U. Solidum, Jr., (middle) director of Philippine Institute of Volcanology and Seismology (DOST-PHIVOLCS), was also awarded the Gawad Career Executive Service (CES) for helming the national programs for natural risk researches and disaster preparedness. Like Engr. Esperancilla, Dr. Solidum was joined by his family when he received his award in Malacañang, last May 30, 2012.