latest news
DOH acquires next-generation CT scans
Tuesday, July 03, 2012 08:33 AM Views : 2682
The Philippine Star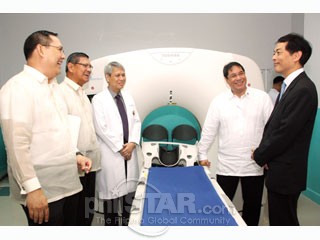 Manila, Philippines - The Department of Health's universal healthcare program, called Kalusugang Pangkalahatan, gets a big boost with the DOH acquisition of nine units of the highly advanced Toshiba Alexion CT scanner system for installation in state-run hospitals, including the Philippine Orthopedic Center (POC).
This was announced by DOH Undersecretary Teodoro Herbosa at the recent inauguration of the POC's radiology lab, equipped with the newly installed Toshiba Alexion multi-slice scanner system.
Designed to benefit, at least initially, the poorest Filipinos, who would choose food or shelter over medicines and medical treatments, the high-performance CT scans will be installed in eight other provincial hospitals, including Dr. Paulino J. Garcia Memorial Research and Medical Center in Cabanatuan City; Jose B. Lingad Memorial Regional Hospital in San Fernando, Pampanga; Bicol Regional Training and Teaching Hospital in Legaspi City; Eastern Visayas Regional Medical Center in Tacloban City; Davao Regional Medical Center in Tagum City; Occidental Mindoro Provincial Hospital in Tayaman Mamburao, Occidental Mindoro; and Luis Hora Memorial Regional Hospital in Bauko, Mt. Province.
"Health facilities are tangible representations of our health system. It is thus only fitting that we place a premium on ensuring the quality of health care available through topnotch facilities," says Herbosa.
The Toshiba Alexion CT (commuted tomography) system features the very latest adaptive iterative dose reduction (AIDR) technology that dramatically lessens patient dose by up to 75 percent, the lowest dose for a CT scan exam in the industry.
"It can also perform 3D reconstruction in real time, virtual colonoscopy, non–invasive angiogram and aortogram, full body examination, and medical diagnosis in a blink of an eye," he adds.
Usec. Herbosa is proud to announce that the Philippine Medical Systems Inc. (PMSI) is the first private partner of the DOH in delivering affordable, quality health care. "These machines have cost us a fortune, but they were acquired through proper competitive bidding and all companies dove their prices to almost 30 to 40 percent of their market cost. They were acquired in a transparent and open manner. Walang kalokohan!"
PMSI president Honesto Evangelista says he was impressed by the sincerity and commitment of Secretary Enrique Ona in implementing DOH's health reform blueprint, and he deemed it was only patriotic to help. Evangelista convinced the Toshiba Medical Systems Corporation Japan to help the DOH in acquiring state-of-the art and essential diagnostic equipment by supporting Ona in offering the most competitive bid. As a result, the DOH saved enough money to buy two more Alexion CT systems, in addition to the seven units it originally purchased. PMSI is the exclusive distributor of Toshiba's diagnostic equipment and solutions in the country.
Source:http://www.philstar.com/Article.aspx?articleId=823336