News
Fiipinos are a creative lot as confirmed in this year's winning inventions of the 2012 National Invention Contest and Exhibit or NICE. Getting the judges' nods, as well as partners with special awards, are remarkable creations that cater to varying interest. Some are designed to make life safer, to ease up and hasten tasks, and even to stimulate the mind with fun. Whatever their purpose, the inspiration and brilliance of the inventors and researchers behind these creations highly encourage other creative minds to explore the possibilities of locally-available materials.
This year's best include a fun board game, a low-cost bamboo splitter, a transforming ladder, enzyme for cheese, a guide for the blind, a remote power line disconnection system, among others. They were designed for a variety of purposes but are all one in their aim of making life better for Filipinos.
Tuklas Award
Challenge 21 (First Place, Outstanding Invention)
A unique board game that is truly Filipino, Challenge 21 promotes mental alertness, abstract thinking, observation skills, and strategizing or thinking out-of-the-box. Inventor Leonardo Mejia Yu of Malate, Manila candidly shared that he designed this board game to create bonding time among family and friends. The game is a combination of other board games like Tic-Tac-Toe, Scrabble, and Bingo, and played by forming a combination of 21 shapes or patterns and blocking opponents from forming these patterns.
Challenge 21 also received a special award from the World Intellectual Property Office.
Motorcycle stand alarming system (Second Place, Outstanding Invention)
Young inventor Timor Miguel El-estwani of Agusandel Norte at 14 is still too young to be issued a driver's license but he was able to develop this important device for bike drivers. Called the motorcycle stand alarming system, it creates a sound to alert the driver starting the bike that the stand is still vertical. The alarm also goes off when the stand accidentally slides down to vertical position during the ride. Vertical bike stands have caused a number of accidents, thus this alarm will help prevent further mishaps of this kind.
Bamboo Splitting Machine (First Place, Outstanding Utility Model)
Created by Stanley C. Malab and Jose A. Zafaralla of Mariano Marcos State University, Ilocos Norte, this machine will help improve the prospects of locally manufactured bamboo products in both local and export markets. It can split round bamboo poles much faster than a bolo, and produce straight and same-width splits better than other mechanized bamboo pole splitters. The result: precisely-cut bamboo splits ideal for furniture-making, house construction, and high-end handicrafts.
The bamboo splitting machine also received a special award from the World Intellectual Property Office.
Compressed air thermal fuel oil dryer (Second Place, Outstanding Utility Model)
Used cooking oil is a health and the environment hazard but Davao City-based inventor Emiliano F. Quitol was able to invent this gadget that can reuse cooking oil for a highly productive purpose. The compressed air thermal fuel oil dryer recycles used cooking oil into quality biofuel that can run internal combustion engines and other machines used in various industries.
A novel slimming agent (Third Place, Outstanding Utility Model)
Researchers Rosalinda C. Monroyo, Evelyn B. Manongsong, Merle A. Villanueva, Elvira L. Arrogante, Eduardo A. Lanto, Fe M. Sison, Perla M. Cuasay and Ursela B. Bigol of the DOST-Industrial Technology Development Institute formulated a fat-burning cream composed of some active ingredients including caffeine and grapefruit oil. As clinical trial has shown that the cream significantly reduced weight, waist and hip, this product shows high potential in the health and wellness market.
Utility ladder (First Place, Outstanding Industrial Design)
Now a ladder, then a chair, then again into an iron stand.  It can also turn into a display, shoe, or book rack. This multi-purpose creation of Romulfo C. Sanchez of Bayombong, Nueva Vizcaya is not only space-saving but also cost-saving. It is very ideal for small condominium units and for people who want to save space or money, or both.
Plastic double cavity stanchion (Second Place, Outstanding Industrial Design)
This creation by inventor Ralph A. Cabrera of Cubao, Quezon City is a major component in the design and fabrication of circular fish cages for mariculture. The double cavity allows two 225 mm circular high-density polyethylene pipes to be connected firmly together and a 90 mm plastic handrail to form the circular fish cage. With these stanchions, circular fish cages can allow intensive high production growout of high value fish species. Targets users of this product are local government units along coastal areas, the Bureau of Fisheries and Aquatic Resources, and private companies that engage in mariculture business.
Likha Award
BIOTECH rennet for cheese making (First Place, Outstanding Creative Research)
Dr. Susana M. Mercado of the National Institute of Applied Microbiology and Biotechnology at UP Los Baños developed the BIOTECH rennet, an enzyme preparation, to substitute animal rennet as milk coagulant in cheese making. The BIOTECH rennet can give 37 to 54 percent higher benefit per 100 liter of milk processed into cheese compared with animal rennet. When commercialized, this technology will benefit dairy-based businesses and decrease the country's importation of rennet.
Biodegradable starch-clay nanocomposites for green packaging (Second Place, Outstanding Creative Research)
DOST-ITDI-based researchers Blessie Basilla, Marissa Pagcaliwagan, Ma. Teresa V. Navarro came up with a starch-based polymer/clay nanocomposite material that can be used as packaging instead of oil-based plastics. Sturdy as a wrapping material but easy on the environment, this nanocomposite has a bright prospect in the environment-friendly biodegradable plastics industry.
Biosafe and indigenous productsout of recycled wastes from processed sea cucumbers (Third Place, Outstanding Creative Research)
Emil Keith N. Antonio, Luzheil Melody D. Collao, Cynthia M. Filipinas, Jeric Justin Ludyawan, and Kenneth Michael Angelo Antonio of Mindanao State University Marawi were able to create ten novel, practical, bio-safe, and environment-friendly products out of sea cucumber which is normally thrown as a waste matter after being used in the medical field. From wasted sea cucumbers, said researchers were able to develop ten novel products including medical products, alternative computer ink, biodiesel, fertilizer, and fungicide.

Sibol Award
Power line disconnection system (First Place, Outstanding Creative Research – College Level)
The research of Kris Logie Mallorca, John Mark Coloma, and Rae Reyes of the University of Mindanao in Davao City led to the development of a system that enables remote stoppage (and relinking) of electrical connections. The system can be used in computers or mobile phones, allowing electric companies to remotely disconnect and reconnect consumers' electric lines. This technology also enables consumers to control their electric consumption and to disconnect their electric power while they are away from homes in event of fire.
Smart e-loading machine (Second Place, Outstanding Creative Research – College Level)
Developed by Remnan Piczon and Jason Arroyo of the Samar State University as a Do-It-Yourself service machine, this e-loader enables the customer to simply drop the coin and key-in the mobile number that needs to be loaded. Less mistake, less hassle. This machine makes for quick and accurate loading service.
The smart e-loading machine also received a special award from the Philippine Development Alternatives Foundation.
Micro-controller based breath analyzer (Third Place, Outstanding Creative Research – College Level)
Sonia Saley and her team from the St. Louis University in Baguio City researched on the development of micro-controller based breath analyzer that will disable the ignition of the vehicle when the driver's breath has at least 0.08 blood alcohol content or near the illegal level of intoxication.  This device prevents drunk persons from driving vehicles, thus averting accidents on the road.
The micro-controller based breath analyzer also received a special award from PDAF.
Biomimetics: Ultrasound guide for the blind (First  Place, Outstanding Creative Research – High School Level)
The research of Chiqui Kate S. Orduna, a student of the University of Baguio Science High School in Baguio City, led to the development of biomimetics, an ultrasound guide for the blind can detect blockages about three feet away. The biomimetics warns the user of nearby obstacles by producing a sound through an earphone.
Manually-operated extruder machine ptotoype (Second Place, Outstanding Creative Research – High School Level)
Yalsan Franz Dangan of the Negros Occidental National Science High School gathered scrap materials and fashioned them into a machine that can create briquettes from dried leaves. Briquettes are blocks of flammable matters, usually charcoal or biomass, used as fuel to start and maintain fire. Through briquetting, the machine was able to turn bio wastes into household fuel.
Polyhydroxyalkanoates (PHA) using fish scales as nitrogen sources (Third Place, Outstanding Creative Research – High School Level)
The research of Mary CherubinAdelaida M. Cruz of the Philippine Science High School - Ilocos Region Campus in San Ildefonso, Ilocos Sur led to the development of polyhydroxyalkanoates (PHA) using fish scales as nitrogen sources. PHAs are biodegradable plastics naturally produced through bacterial fermentation of sugar or lipids.
New technologies from abaca waste (PDAF Special Award)
Also awarded by the PDAF is the research by Evelyn R. Espinas and Alfred John M. Malinis of  the Polangui General Comprehensive High School in Polangui, Albay that explored the possibility of producing abaca juice from abaca waste and turning it into foliar fertilizer and alcohol extraction. Further, the research included the use of compacted waste as green fuel and handicraft material. (Photos by Henry A. de Leon)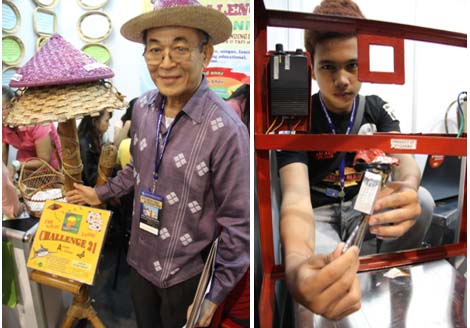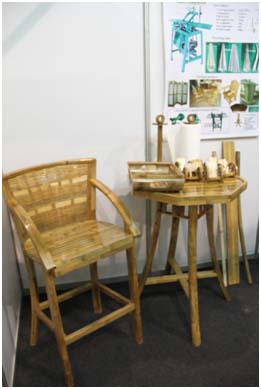 Products of the Bamboo Splitting Machine (First Place, Outstanding Utility Model)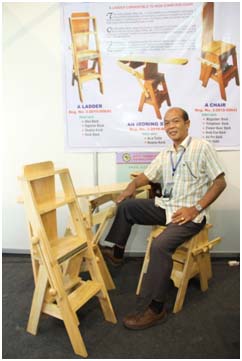 Utility ladder (First Place, Outstanding Industrial Design) with inventor Romulfo Sanchez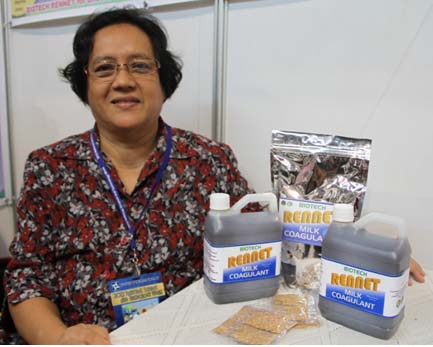 BIOTECH rennet for cheese making (First Place, Outstanding Creative Research) with Dr. Susana M. Mercado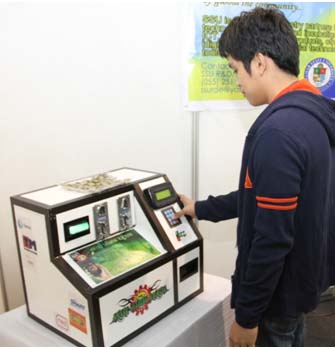 Smart e-loading machine (Second Place, Outstanding Creative Research – College Level)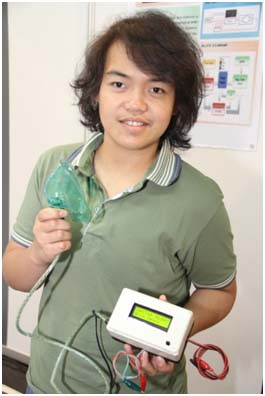 Micro-controller based breath analyzer (Third Place, Outstanding Creative Research – College Level) with researcher Sonia Saley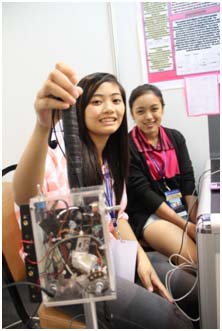 Biomimetics: Ultrasound guide for the blind (First Place, Outstanding Creative Research – High School Level) with researcher Chiqui Kate S. Orduna (front)