featured news
An Ilonggo entrepreneur from Jaro, Iloilo City received recognition as the 2012 Best SETUP Adaptor for Region VI through the showcase of technology intervention of the Department of Science and Technology's Small Enterprise Technology Upgrading Program – Innovation System Support Fund (SETUP-ISSF) program.
Grace M. Javelosa, owner of RGies Delicacies, takes pride as one of the regional awardees that was recognized among micro, small, and medium enterprises (MSMEs) that have made great transformation as a business.
From hobby to business
She was recognized for her achievement on turning a simple hobby into a very competitive business.  From simply making butterscotch and yema for family and friends in a small rented residence, the venture turned into a great entrepreneurial pursuit. Starting as a subcontract company in 1985, it finally established its name in 2003.
RGie's has been aggressive in its marketing strategies thus, it was able to penetrate the market and the industry. Competition, quality and sales merged into a bottleneck for the company. Because of its fast-paced growth, Javelosa sought DOST's assistance to keep up with her brisk business.
Through DOST's Manufacturing Productivity Extension (MPEX) Program for Export Modernization, Javelosa was able to identify some critical technological needs of the company, including equipment upgrading to increase production volume. The company then availed of the SETUP Innovation System Support Fund (ISSF) to implement the improvements it needs.
Level up through SETUP
In 2005, RGies acquired 750,000 pieces inner and 160,000 outer packaging materials, horizontal band sealer, mixer, and oven through the assistance.
DOST VI Regional Director Engr. Rowen R. Gelonga said SETUP as an all in one package intended to boost MSMEs' productivity and competitiveness via technology innovations.
"It is a package because it involves a wide range of services such as trainings, consultancy services, laboratory services, packaging assistance, equipment upgrading, among others," Gellonga said. "It is a solutions provider and an agent of transformation."
The intervention of DOST's Packaging Research and Development Center based at the Industry Technology Development Institute gave RGies products' more attractive and durable packaging and labeling.  The assistance also included shelf-life testing and nutrition facts.
After the new package and label were out in the market, RGies product awareness and sales shot up.  The new look can already compete with imported goods that are flooding the market.  Likewise, the upgraded production facilities enabled the company to efficiently and effectively meet the increasing market demand for the products.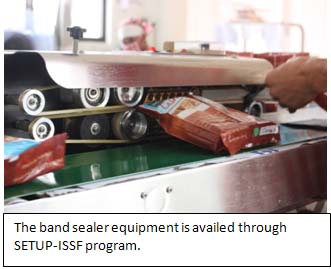 Encouraged by this success, the company again sought assistance due to constraints in the former facility.  In 2009, a project for the improvement of pasalubong delicacies gave another breakthrough to RGies products.  It availed of 115,385 pieces of packaging material and an additional unit of cooking mixer.
"Interventions improved product quality and reduced  costs, resulting in bigger income and wider markets. A very important outcome is customer satisfaction, resulting in business continuity, growth and expansion," Gelonga added.                            
The integration of technology brought significant accomplishment to RGies that has cracked into the export market, enabling it to bag the highest award among 15 other SETUP adaptors throughout the region.