featured newsdata-numposts="5"data-numposts="5"
UP Monorail: 'Ikot' jeeps of the future arrive at UP Diliman
Sunday, November 25, 2012 05:17 AM Views : 13720
Rappler.com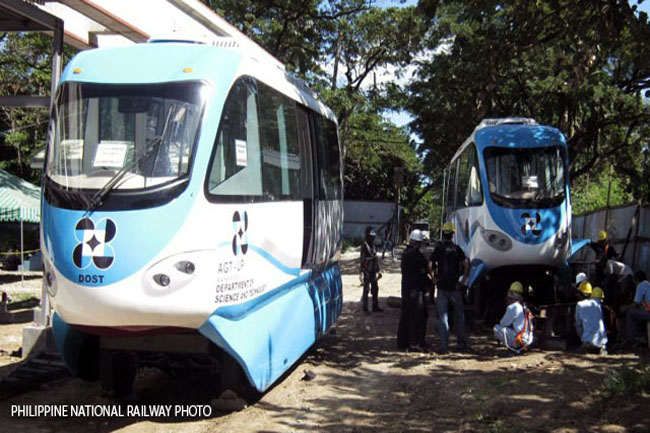 MANILA, Philippines (UPDATED) - The University of the Philippines Diliman campus is about to witness a major transportation upgrade really soon, an alternative to the aging "UP Ikot," iconic yellow jeepneys that ply a circular route around the UP Campus.
The railway enthusiasts' group Philippine Railways, through their Facebook page, posted a photo of what will soon be a fixture in the Quezon City campus: an electric-powered monorail system.
The monorail system or the Automated Guideway Transit System (AGTS) is a locally developed transportation system that could soon be the "future of mass transport systems made by Filipinos," according to Science and Technology Secretary Mario Montejo.
The joint project between the DOST and the University of the Philippines Diliman saw the construction of a 465-meter test track that runs from CP Garcia Avenue (near the Commission on Higher Education building) to Jacinto Street along the College of Fine Arts.
The already constructed monorail tracks stand at an elevation of 6.1 meters. Two monorail cars designed with DOST and UP colors, blue and maroon arrived at the site Sunday, November 25.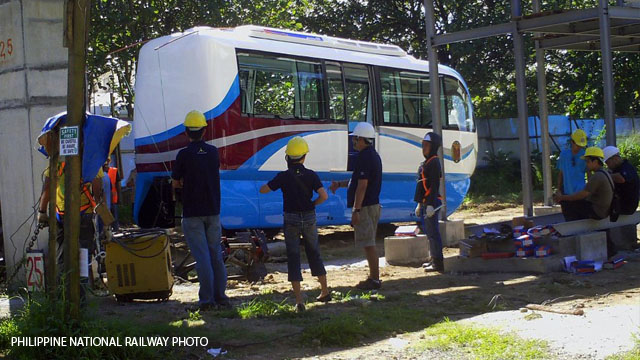 MAROON AND BLUE
According to Beth Padilla of the DOST Public Affairs Unit the launch of the service is expected to happen this December 2012.
Through the UP test track, the DOST's Metals Industry Research and Development Center hopes to "fine-tune the technology's mechanisms and operation, which include speed, stability, brake distance, and power," according to the PIA.
If successful, the project will move onto Phase 2 which will cover a route that includes points not covered by existing jeepney systems: Philcoa (1), CP Garcia (2), Lakandula (3), Delos Reyes (4), College of Engineering (5), Science Complex (6), Katipunan(7), Vinzons Hall (8), International Center (9), Laurel (10), Commonwealth Ave (11), Commission on Human Rights (12), and UP-Ayala Technohub (13).
In his 2011 State of the Nation Address, President Benigno Aquino III spoke about the AGTS monorail system as a potential solution to the problem of mass transportation in country. Aquino said the project, "could result in more kilometers of cheap transport, decongesting urban centers and allowing rural communities easier access to centers of commerce and industry."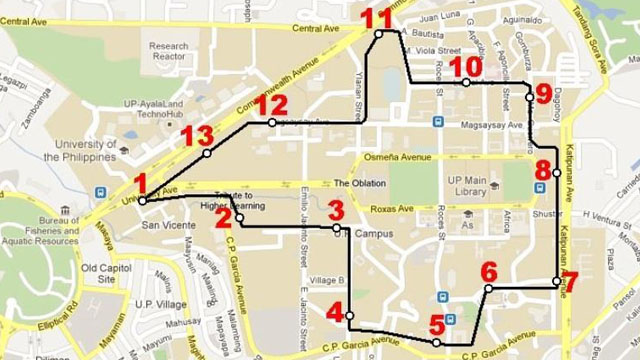 PHASE 2: Proposed Route of phase 2 of the UP Monorail
Aquino added that the project "developed by Filipinos for Filipinos" would "cost us as little as 100 million pesos per kilometer, much cheaper than the current cost of similar mass transit systems." - Rappler.com
(Editor's note: An earlier version of this story stated the photo came from the official page of the Philippine National Railways. It has now been corrected to reflect the actual source of the photo.)
Source: http://www.rappler.com/nation/16745-up-diliman-from-jeepneys-to-trains