News
DOST to launch MOSES for Project NOAH
Monday, July 22, 2013 02:12 AM Views : 1929
Rodolfo P. de Guzman
When the weather remains to be unpredictable, there is no other way but to apply the most sophisticated scientific tool to mitigate, if not prevent, the negative impact of typhoons, floods, tsunamis and even volcanic eruptions and earthquakes.
This is the reason why the Department of Science and Technology (DOST) through Project NOAH (Nationwide Operational Assessment of Hazards) has come up with a tablet device aptly called MOSES or Mobile Operational System for Emergency Services.
DOST and Project NOAH will formally launch MOSES on July 23, 2013, the opening day of the celebration of the National Science and Technology Week dubbed 2013 Expo Science.
MOSES is a tablet is capable of receiving real-time weather and flood information reports from DOST's Philippine Atmospheric, Geophysical and Astronomical Services Administration (PAGASA) and Project NOAH that local officials, down to the barangay level, can access for accurate decision-making eventually to prevent massive destruction and casualties.
The 8-inch mobile tabletis designed locally with assembled chipset and circuit boards to ensure the availability of spare parts as well as service support. It has a dual SIM function, television, and radio component and is packaged in a rugged shell with a long-life battery that can last up to three days.
Further, MOSES also provides Doppler radar sensor data, water level sensor data and measurements culled from gauges strategically located in different high-risk areas. Also available in the tablet is a hazard map that is updated in real time.
More information about MOSES and Project NOAH are available during the National Science and Technology Week on July 23-27, 2013 at the SMX Convention Centre, SM Mall of Asia, Pasay City. This year's theme is "Science, Technology and Innovation: The Road to a Smarter Philippines."
So if Moses could wave his staff and part the Red Sea, MOSES may be the answer to scientifically managing disasters and allow us to rise above the floods. (S&T Media Service, DOST-STII)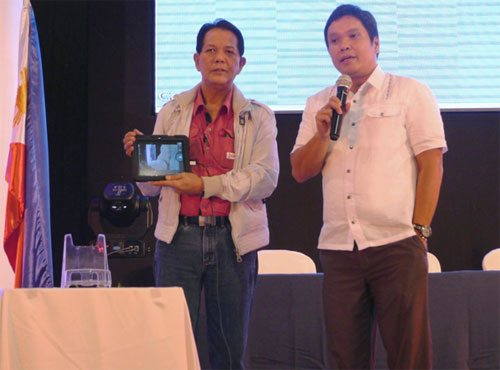 Science department launches MOSES tablet.Dr. Mahar A. Lagmay (right), executive director of Project NOAH (Nationwide Operational Assessment of Hazards), formally introduces the Mobile Operational System for Emergency Services or MOSES tablet during the 2013 National Science and Technology Week. MOSES is a portable computing device that contains online and communication applications vital for disaster risk reduction and management operations. The launch was held during the Metro Manila Disaster Summit in July 23 that gathered local government officials nationwide for the five-day celebration of the National Science and Technology Week 2013. With Dr. Lagmay is Renato Brion, director of the National Capitol Region Office of the Department of the Interior and Local Government. According to Dr. Lagmay, 150 units of MOSES will be distributed to barangays in the National Capitol Region for pilot testing. (S&T Media Service)