News
A video posted by the Philippine Institute of Volcanology and Seismology (PHIVOLCS) on Facebook shortly before 9 a.m. showed a pyroclastic flow event at the volcano.
The video showed thick ash billowing as pyroclastic materials flowed on the volcano's surface.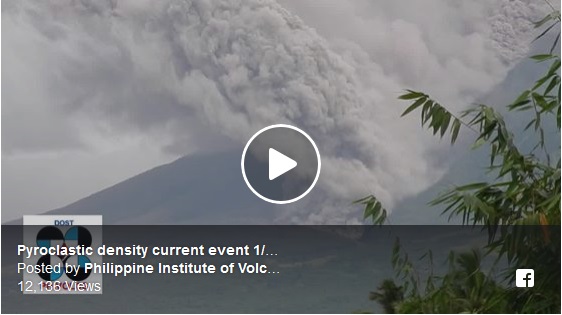 Lava continued to flow from Mount Mayon as the volcano remained in a high level of unrest on Tuesday morning.
A video by YouScoopers Bert Recamunda and Joel Rey Lim showed the volcano forcefully spewing out fiery molten rock on Monday night.
A report on Unang Balita said Mount Mayon was almost in full view on Tuesday morning and thick black smoke was seen coming from the volcano, which indicates it is spewing thick, fiery lava.
The report said residents in evacuation centers fearfully stayed up all night watching the events.
"Ang gusto namin dapat, matapos na 'yan, kasi nakakatakot eh," a resident said, after describing the lava she saw.
The red-orange lava slowly cascades from the volcano's mouth to its sides, setting fire to ashes it previously ejected.
Alert Level 3 has been raised over the active volcano, indicating a "relatively high level of unrest."
PHIVOLCS said a hazardous eruption is possible "within weeks or even days."
Residents returning to danger zones
Local government officials, meanwhile, are pleading to residents who have yet to leave the six-kilometer radius permanent danger zone to vacate their homes because of a possible hazardous eruption.
Local officials are also asking the evacuees to refrain from returning to their homes.
The Unang Balita report said a farmer, Mang Rauwel, returns to his home located inside the permanent danger zone to check on his crops and his family's livestock.
The farmer's family are staying in an evacuation center in Albay.
Mang Rauwel drops off his wares in bulk at a trading post in Camalig town in Albay province, where others like him watch the flowing lava in awe.
Valeriano, a chief barangay tanod, has also been sleepless as he fears a volcanic eruption, and so are a group of friends, who stayed up all night on Monday to document the volcano's events and send photos to their loved ones. —Nicole-Anne C. Lagrimas/ALG, GMA News
Source: http://www.gmanetwork.com/news/news/regions/639832/mount-mayon-lava-continues-to-flow-but-some-residents-still-return-to-danger-zone/story/