News
DOST's Cavite Water & Wastewater Lab passes DENR-EMB audit
Monday, January 22, 2018 03:24 AM Views : 459
Gilda S. De Jesus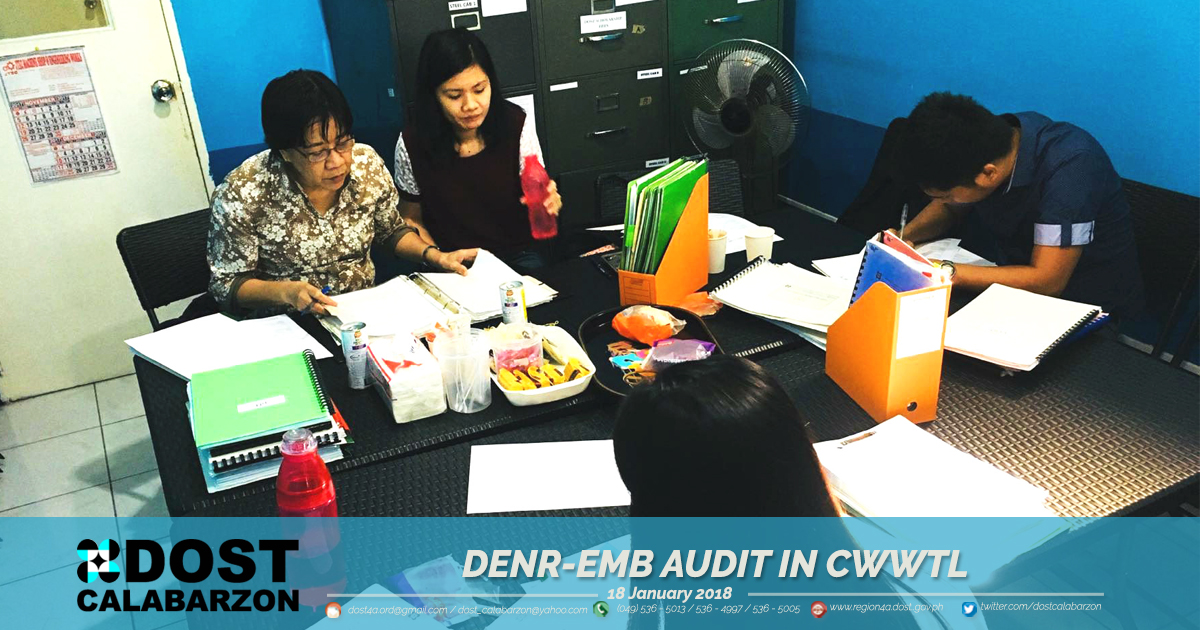 Technical experts from DENR-EMB audit the related documents of DOST CALABARZON's Cavite Water and Wastewater Testing Laboratory (CWWTL), January 19.
TRECE MARTIRES CITY, Cavite—In order to ensure that the recognized laboratories of Department of Environment and Natural Resources' Environmental Management Bureau (DENR-EMB) continue to uphold its mandates, technical experts from the said department conducted monitoring and reassessment of DOST CALABARZON's Cavite Water and Wastewater Testing Laboratory (CWWTL), January 19.
After checking if CWWTL still complies with the requirements of DENR Administrative Order No. 98-63, DENR-EMB passed the reassessment of the laboratory with zero non-conformities and two recommendations for improvement.
"The Laboratory demonstrates its ability to provide quality, accurate and precise microbiological and chemical test results. They maintain high standards of testing and analysis of water and waste water compliance samples," thus spoke Engr. Raul Castañeda, Provincial Director and Quality Manager of DOST-CWWTL.
Castañeda added that being recognized by DENR and other accreditation bodies, the laboratory demonstrates their strong quality system, technical competence, upgraded and suitable equipment and instrumentation and their ability to produce precise and accurate test data.
"For our existing customers, it enhances their confidence in our services and their choice as a business partners while remaining committed to provide manufacturing companies with accurate test results to keep up with industry growth and better serve their clientele," he ended.
CWWTL is an accredited laboratory of the Philippine Accreditation Bureau of the Department of Trade and Industry per ISO 17025:2005 and Department of Health as a laboratory for drinking water analysis.
Source: http://www.region4a.dost.gov.ph/87-updates/2016-news/1042-dost-cavite-water-wastewater-lab-passes-denr-emb-audit