News
New NRCP head: Be awed by science and arts
Monday, April 09, 2018 12:14 AM Views : 253
Rizal Raoul Reyes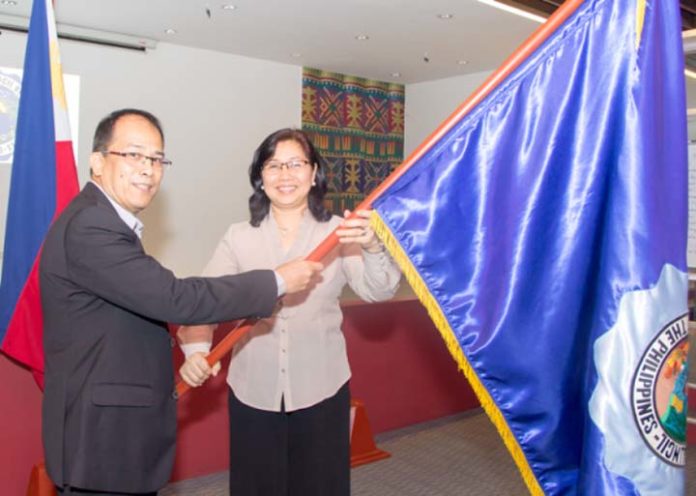 In Photo: Outgoing President Dr. Christina A. Binag (right) passes the Department of Science and Technology-National Research Council of the Philippines (DOST-NRCP) flag to the new president, Dr. Ramon A. Razal, during the recent Organizational Meeting and Oath taking of the DOST-NRCP Governing Board at the NRCP Auditorium in Bicutan, Taguig City.
The newly elected president of the country's premier research body urged the local scientific and arts community to promote the beauty and relevance of these disciplines to Philippine society.
"My clarion call as NRCP [National Research Council of the Philippines] president is for every Filipino to be awed by the many possibilities that science and the arts can bring. I wish every member of the Filipino learned community share in this vision. I invite you to do a casual survey by asking an ambulant taho [silken tofu snack] vendor if he knows of any scientist or researcher," Dr. Ramon Razal said in his message during his recent election as NRCP president at the council's recent 85th general membership assembly.
Razal said negative answers should not discourage a scientist or an artist in telling the masses that arts and science can make a difference in their lives.
"Beginning with the annual NRCP Scientific Meeting, I want the members to become beneficiaries of science through seamless registration, indeed a small step whose message is 'NRCP cares.' I hope you won't mind if we involve you in test runs to make this possible," Razal explained.
Although the mandate of the NRCP is to promote basic science, Razal pointed out that some inconsistencies needed to be ironed out between how the organization evaluate basic research proposals with its objectives.
"What drives basic research is curiosity. So, being asked to respond to inept questions when defending a basic research proposal surely stifles it. Thus, I will call for a review and possible overhaul of the proposal review process to kindle more basic research," said Razal, a professor in the Department of Forest Products and Paper Science (FPPS) in University of the Philippines Los Baños (UPLB) College of Forestry and Natural Resources.
He also plans to promote the National Integrated Basic Research Agenda (Nibra) as NRCP's research roadmap. He pointed out that every well-planned and thoroughly done research on the country's natural endowments, the ecosystems, the changing climate and on the fundamental needs and aspirations of the Filipino will contribute to Nibra.
Razal teaches Wood Chemistry, Nontimber Forest Products, among other courses.
He was recently named UP Scientist 2 for 2015-2017. He is also the the chairman of Division 6 Agriculture and Forestry for two consecutive terms and a member of DOST-NRCP since December 1990.
The other members of the NRCP 2018 to 2019 executive committee are Dr. Arnel A. Salvador, vice president, Dr. Ma. Natalia R. Dimaano, corporate secretary, Dr. Polly W. Sy, treasurer, Dr. Maricar S. Prudente, assistant corporate secretary, Dr. Edanjarlo J. Marquez, assistant treasurer.
The NRCP also elected its governing board members during its general membership assembly in March.
They are Dr. Gilberto M. Llanto and Clarita Carlos, members-at-large, Dr. Jovencio G. Apostol, Division 4 pharmaceutical sciences; Dr. Gregorio E.H. del Pilar, division 8 social sciences; Dr. Mafel C. Ysrael, Division 10 chemical sciences.
Reelected to the governing board are Dr. Maricar S. Prudente, Division I governmental, educational and international policies; Dr. Raul V. Destura, Division 3 medical sciences; Dr. Ma. Natalia R. Dimaano, Division 7 Engineering and industrial research; and Razal, Division 6 agriculture and forestry.
The NRCP governing board officers will have a one-year term covering the period April 1, 2018 to March 31, 2019. The DOST-NRCP consists of 13 scientific divisions that supports and promotes basic researches.
Meanwhile, the NRCP also gave the Outstanding Achievement Awards during its general assembly to its nine members for their outstanding research work and scientific endeavors in their respective fields of basic and applied sciences have resulted in various high-impact innovations and breakthroughs.
They are: Dr. Maria Andrea L. Santiago, Asian Institute of Management (AIM), for education; Dr. Erna C. Arollado, UP Manila, for pharmaceutical sciences; Dr. Emphrime B. Metillo, Mindanao State University-Iligan Institute of Technology, for biological sciences; Dr. Michael Angelo B. Promentilla, DeLa Salle University, for engineering and industrial research; Dr. Florencia G. Palis, UPLB for agriculture and forestry; Dr. Avangeline C. Amor, UP Diliman, for chemical sciences; Dr. Priscelina P. Legasto, former faculty of the UPs Diliman, for humanities; Dr. Gemma Teresa T. Narisma, Manila Observatory, for earth and space sciences and; Dr. Mildred A. Padilla, UPLB for veterinary medicine.
Dr. Gemino Abad was conferred as NRCP member Eemeritus for his immense contribution to the academic studies of humanities.
Meanwhile, the Outstanding Institution Awards was conferred to three institutions in recognition of their staunch support and significant contribution to the growth and development of science, technology and innovations in the country, along with the advancement of social sciences, humanities and arts in the Philippines.
This year's recipients were three academic degree-granting units of the UP Diliman, these are: the Center for Ethnomusicology for excellence in Philippine and Asian indigenous music with a collection of more than 2,500 hours of recorded music from 78 language groups in the Philippines, Southeast Asia and Africa, from the lifetime work and research of its late founder, Dr. José M. Maceda, National Artist for Music, and 1987 NRCP Achievement Awardee for the Humanities;
The Department of Geodetic Engineering and the Training Center for Applied Geodesy and Photogrammetry for being the country's leading institutions and centers of excellence in geospatial education, extension services and research, and have advanced the quality of its undergraduate and graduate degree programs, training courses and research projects through the acquisition of state-of-the-art equipment and streamlining its academic programs;
And the Marine Science Institute for its unequaled contributions in the growth and development of research in marine biodiversity, biotechnology, oceanography and sustainable utilization of marine bio-resources in the Philippines.
Lastly, 64 technical posters of Filipino researchers were displayed to showcase science, technology and innovations as effective and efficient tool that work for change.
Two monographs published by NRCP were presented during the event. These were "Do Fishes Want Sex Change?" authored by Dr. Michelle V. Paraso and "Fish Parasites as Heavy Metal Absorbents" by Dr. Vachel Gay V. Paller.
Source: https://businessmirror.com.ph/new-nrcp-head-be-awed-by-science-and-arts/