News
DOST-NCR helps clean up creek, empower Taguig community
Friday, April 20, 2018 01:22 AM Views : 480
S&T Media Service
The Department of Science and Technology-National Capital Region (DOST-NCR) recently collaborated with the local government of Taguig City and other government agencies to help clean up the Conga Creek to achieve a cleaner, safer and healthier metropolitan environment.
The Conga Creek in Taguig spans around 300 meters with 28 B most probable number (MPN)/100ml reading of coliform and 0 oxygen water analysis. Under the international standards, the acceptable MPN should be less than one up to less than 10 MPN. This means that the pollution in the said creek is way beyond the acceptable limit and all the oxygen has been used up. Under such condition, no fish would ever survive because it has to compete with billions of bacteria.
Conga Creek is among the 48 creeks under the Adopt an Estero Program of the Department of Environment and Natural Resources (DENR) and other agencies (private and government).
Collaborating with Taguig City under the said program, the DOST-NCR will not only help in cleaning up the creek but will also help empower the communities through the DOST Community Empowerment thru Science and Technology (CEST). The said DOST program helps communities improve their living conditions through science and technology interventions in health and nutrition, water and sanitation, basic education and literacy, livelihood/economic enterprise development, and disaster risk reduction and climate change adaptation.
Partners in the Adopt an Estero Program such as DOST-NCR and the other agencies also committed to support each other in the following areas: information and education campaigns, community mobilization and other activities that would foster harmonious relations. They will also work together in decongesting the pilot site of garbage and introduce interventions which are aligned with the DENR's recommended measures, such as planting of bamboo and other plant species along the river banks and other activities.
The other agency-partners in the Conga Creek cleanup are the Metropolitan Manila Development Authority (MMDA), Department of Public Works and Highways, Department of Interior and Local Government, and the Department of Health.
There are around 273 waterways (estero) in the metro alone, according to the Metropolitan Manila Development Authority (MMDA). It is not uncommon to see polluted waterways in Metro Manila and the level of pollution has been a concern among environmentalists and other individuals and groups.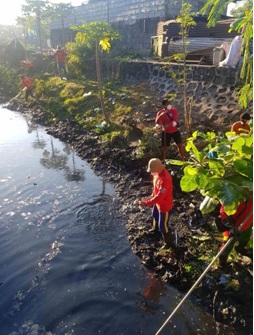 Representatives from partner agencies clean up Conga Creek. (Photo credits to DOST-NCR)\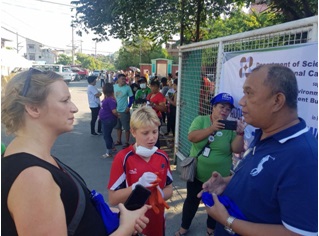 Helena Reitberger, Counsellor/Deputy Head of Mission of the Embassy of Sweden in Singapore, with her son Svante, interviews DOST-NCR Regional Director Jose B. Patalinjug III regarding the Adopt An Estero Program. (Photo credits to DOST-NCR)