News
DOST projects to counter disasters, climate change
Monday, April 30, 2018 05:52 AM Views : 222
Philippines News Agency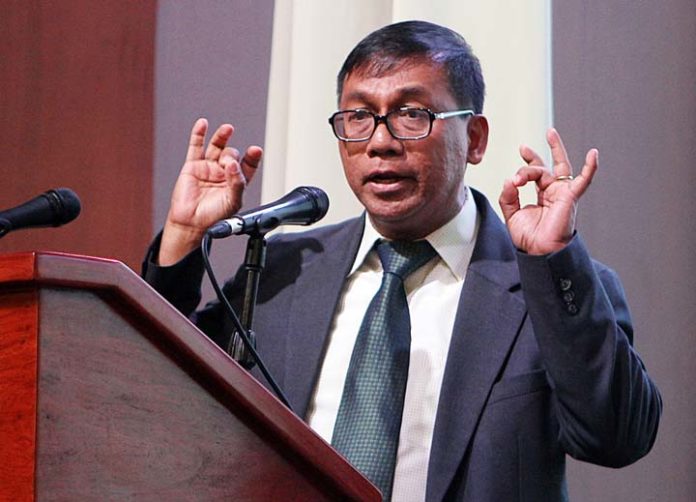 In Photo: Science Undersecretary Renato U. Solidum
Government scientists are working on 27 new projects for disaster-risk reduction and climate-change adaptation and mitigation, Science Undersecretary Renato U. Solidum said on Tuesday.
These projects are part of the Department of Science and Technology's (DOST) National Research and Development agenda for 2017-2022.
"We expect most of these projects to be approved this year," Solidum said at the recent National R&D conference held at the Philippine International Convention Center in Pasay City.
He added seven of the projects are for monitoring and forecasting, four are for hazards, vulnerability and risk assessment, two are for warning and risk communication, and the rest are for technology solutions—areas that are among the DOST's priorities.
Solidum said DOST-attached agencies have also partnered with universities in developing projects related to disaster-risk reduction and climate-change mitigation.
The Philippine Institute of Volcanology and Seismology (Phivolcs), for instance, has partnered with the Mapua Institute of Technology for the development of an earthquake intensity-monitoring system. The project also targets to monitor active fault movements. To monitor hydrometerological phenomena and related hazards, the Philippine Atmospheric, Geophysical and Astronomical Services Administration (Pagasa) has partnered with the University of the Philippines in Los Baños (UPLB) for rainfall monitoring and landslide warning. The partnership targets heavy-rain monitoring and forecasting in mountainous areas and early warning for landslides. Solidum said Phivolcs is working with UP to enhance damage-estimation capabilities using building-specific analysis.
"This is a feature-based earthquake-analysis toolset for urban-response estimation," he said.
Among the Phivolcs's projects is the ground-motion modeling, he said, noting that specific earthquake-ground motion would help enhance the seismic resiliency of residential and medium- to high-rise buildings in Metro Cebu and Metro Davao.
Pagasa has also teamed up with the Ateneo de Manila University (AdMU) for rain monitoring, where a novel rain-acoustic sensor would be developed.
"Pagasa is currently enhancing its hydrometeorological hazards monitoring and risk assessment, as well as its information-sharing capabilities," Solidum added.
AdMU was also tapped for the development of a groundwater resource-management plan and monitoring system for Zamboanga City and surrounding areas.
Mapua, meanwhile, was tapped for the development of an automated real-time monitoring system for the Magat Dam, as well as for the development of the Philippines' Structural Integrity Monitoring System for Critical Infrastructures in Metro Manila. This is for earthquake mitigation, according to Solidum.
Mapua is also the partner university for the development of a high-frequency doppler radar ship tracking algorithm software for maritime search, surveillance and rescue. For some of the other projects, the DOST has tapped the expertise of state universities and colleges in the Ilocos and Cordillera regions.
Source: https://businessmirror.com.ph/dost-projects-to-counter-disasters-climate-change/