News
Visiting researchers to government: Enlist more long-term Balik Scientists
Sunday, July 15, 2018 12:57 AM Views : 351
dd K. Usman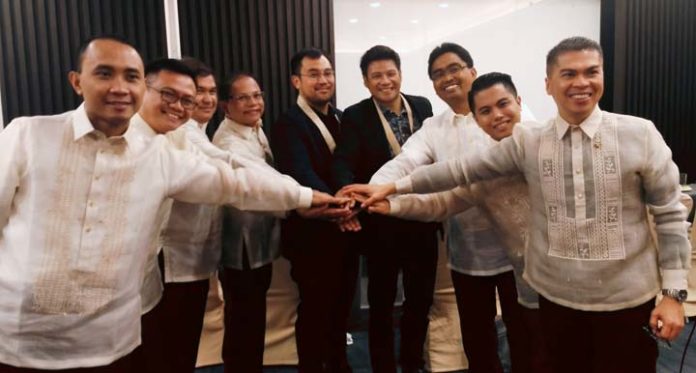 In Photo: Some of the Balik Scientists honored at the NSTW celebration joined by two leaders of the House of Representatives (in coat).
Story & photo by Edd K. Usman
DAVAO CITY—Filipino scientists working abroad have been giving back to their homeland and fellow citizens through their time, expertise, experience and, doubtless, in some cases, personal resources.
Many have been doing this patriotic duty even with a big bite off their earnings abroad where they receive what one may call a "king's ransom."
Nevertheless, many felt it is in their heart to give back to their homeland and their fellow citizens, not only because many of them pursued their studies through scholarships from the Department of Science and Technology (DOST). They see it as a sense of duty.
The Science Education Institute (SEI), an attached agency of the DOST, is implementing the government's various science and technology (S&T) scholarship programs.
DOST-SEI's scholarships have provisions for college, master of science (MS) and doctorate (PhD) degrees. And through the 16 campuses of the Philippine Science High School (PSHS) nationwide, the DOST also has scholarships for secondary level.
The DOST has its Balik Scientist Program (BSP). Its objective is the strengthening of the scientific and technological human resources of academe, public and private institutions, which include locally registered enterprises to promote sharing of knowledge and speed up the flow of new technologies into the country.
Needless to say, the program also addresses brain drain involving Filipino researchers, scientists and engineers (RSE).
According to the DOST, a Balik Scientist "refers to a science, technology or innovation expert or professional, as certified by the DOST, who is a Filipino citizen or a foreigner of Filipino descent, residing abroad and engaged by the government to undertake [S&T] activities along his/her field of expertise with a host institution."
Just recently, Congress put more teeth to the program.
The BSP, which has been in place since 1975 (but implemented in 1986), received a shot-in-the-arm, so to speak, after President Duterte on June 15 signed Republic Act (RA) 11035, or Act Institutionalizing the Balik Scientist Program.
RA 11035 ensures the giving of more incentives to returning Filipino experts, scientists, inventors and engineers who would agree to come over and share their expertise.
Among others, one of the objectives is to boost the Philippines's march toward a technology-savvy nation, and a producer and user of innovation.
More scientists needed
In relation with this, two returning scientists suggested a few more measures to further derive more benefits from the program.
There should be more scientists for a long-term engagement, from a year to three years, than short-term returnees.
In addition, universities in the country should endeavor to get more qualified professors with the capability to train fellow Filipinos up to the PhD level.
Besides being able to train students for doctorate degrees, professors should also be globally competitive and imbued with quality.
These suggestions were from Dr. Jonel P. Saludes, who spoke from experience.
Saludes was among the 2018 crop of 41 Balik Scientists. He worked at the Washington State University, United States. He is in the country for long term and is being hosted—now associate VP for research—of Iloilo City's University of San Agustin.
He spoke with this reporter during the July 6 to 8 National Science and Technology Week (NSTW) in Davao City, the first time an inaugural NSTW was held in Mindanao.
Disperse trainers in regions
Saludes explained his idea. "They [scientists] can take their PhDs in universities with high ranks in the Philippines, expand their program so their graduates can also train PhDs."
The Filipino scientist explained that these trainers of doctoral students should be localized, or in regions around the country, not confined to big universities in Metro Manila.
"Hopefully, they are distributed in universities in the entire country. There must be a regional human-resource development because presently most of the high-level trainers are in Manila. We are in a disadvantage in the provinces."
If the quality trainers are dispersed in the regions, professors who want to take PhD do not have to go to Manila to have a doctoral training that is globally competitive, he emphasized.
More long-term slots
Saludes also suggested increasing the number of slots for long-term serving scientists in the BSP. He noted that there are more short-term slots at present.
He backed up his suggestion. "If you are here for three years your impact will be more readily seen because you are here all the time. So you can give advice on the PhD training, you can teach one or two semesters in the PhD program," he pointed out.
In a short-term program, he said, a scientist is in the country for three months at most, then return to their foreign base.
"It's just like a visit," he agreed. "So, you can't have a mentoring time because you do not last [at least] a semester [in class]. You have no project."
Hopefully, Saludes wished, if the long-term scientists do not exceed the short-term ones, the former should be doubled or tripled so Filipinos can see a tangible product from them.
A scientist who is in the country for one or three years is seen by the students being mentored every day, thus, there is constant mentoring and training. It's not a cure-all solution, he admitted, though, he said.
Left behind in number of experts
"At the end of that [long-term period] the number of our PhD graduates may not work like magic but we will have a progression. We are being left behind by Singapore, Malaysia and Vietnam [which have many scientists]. We are far from the Unesco [United Nations Educational, Scientific and Cultural Organization] number," he said.
Saludes was referring to the benchmark of 380 RSEs per a million population set by the Unesco.
"PhD training cannot be rushed, it should not be done hastily, it should be a planned progression," he suggested.
It is also vital, Saludes said, to have a constant communication between the DOST through a focused liaison officer and university administrators, which can be done through frequent visits to the universities to closely monitor the projects' implementation.
If there is any delay of the project, he said, it can be quickly remedied through a DOST liaison officer's frequent visits.
Welcome suggestion
Science Secretary Fortunato T. de la Peña welcomed the suggestion. In fact, he said increasing the number of returning scientists is already in his mind.
"I am aiming at 50-percent increase in BSP beneficiaries for three years. Then 20-percent increase the next three years," he assured, as he hopes the long-term beneficiaries' number would increase.
De la Peña also welcomed the suggestion of nurturing honor students. "That is a good suggestion, to recruit our honor graduates to the government service."
Increase number of RSEs
Balik Scientists are expected to perform activities in line with their expertise. Among them are the introduction of new technologies; research and development collaborations; collaboration with international universities and R&D institutions; and S&T capacity development that includes lectures, seminars, workshops and hands-on training.
As for their deployment from 2007 to 2018, eight Northern Luzon institutions got 25 Balik Scientists; Southern Luzon, 63 institutions and 275 Balik Scientists; Visayas, 14 institutions and 30 Balik Scientists; and Mindanao, 17 institutions and 26 Balik Scientists.
The Balik Scientists in the same time frame came from their respective bases in North America, 145 beneficiaries, 69 percent; Asia, 28, 13.3 percent; Europe, 20, 9.5 percent; Australia, 16, 7.6 percent; and Africa, one, 0.5 percent.
A total of 140 Balik Scientists are male, or 67 percent; and female, 70, or 33 percent.
The DOST's Balik Scientist Program is vital to the Philippines's initiative to increase the number of RSEs to at least be on a par with the benchmark of 380 RSE per a million population set by the Unesco.
As of 2015 the country has reached 270 RSE. The DOST's target is to increase the number of RSE to 300 by 2022.
Every Balik Scientist has a choice from three categories: short-term program (minimum of 15 days, six months maximum per award); medium term (exceeds six months, not more than one year per award); and long term (over one year up to three years, but can be renewed).
A Balik Scientist is entitled to incentives, among them: exemption from licensing or permitting requirements of the Professional Regulation Commission; accident and medical insurance covering the duration of the engagement; reimbursement of expenses for excess baggage allowance;
Exemption from renouncing their oath of allegiance to the country where they took the oath; tax and duty exemption in the donation of equipment, instruments and materials and in the importation of professional equipment, instruments and materials.
The DOST may also draw up other benefits and privileges, and may include a one-time incentive bonus.
Duterte attended the NSTW celebration in Davao City on July 7 during which he cited the importance of innovation.
"Innovate, or perish," the President said even as he renewed his support for the DOST and the science community.
Of course, the significance of the President's gracing the event was not lost on the DOST chief.
"It was very important because I thought we should give him all the information [about the DOST projects and programs], where we are now, our strengths and weaknesses, etc. It is very important that he knows them."
De la Peña thanked the President for his strong support.
Source: https://businessmirror.com.ph/visiting-researchers-to-govt-enlist-more-long-term-balik-scientists/