News
The tropical fruit known for its thorny external projections and sweet nutritious meat bulbs has gone out from being just a fruit to being Malvar's jack(fruit) of all trades! This sweet and delicious jackfruit rich in vitamins, minerals, electrolytes, phytonutrients, carbohydrates, fiber, fat, and protein is recognized for its abundance (in different varieties) in the municipality of Malvar particularly in Brgy. Bilucao. Over the years, preparation of jackfruit meat bulbs has served as a source of livelihood to all the people of Bilucao community by supplying it to jackfruit processing companies. However, no one in the community has attempted to run an enterprise focused on processing jackfruit-based products.
In an aim to form a value-adding solution to plain jackfruit meat bulbs, Bisig at Lakas ng Kasapi ng Samahan ng Bilucao (BILANGKAS) organization was established in Brgy. Bilucao. Significant among its goals is the adoption of technology on jackfruit-based products processing to spin off applications to their abundant supply of jackfruit and run an enterprise to provide its members a sustainable livelihood opportunities.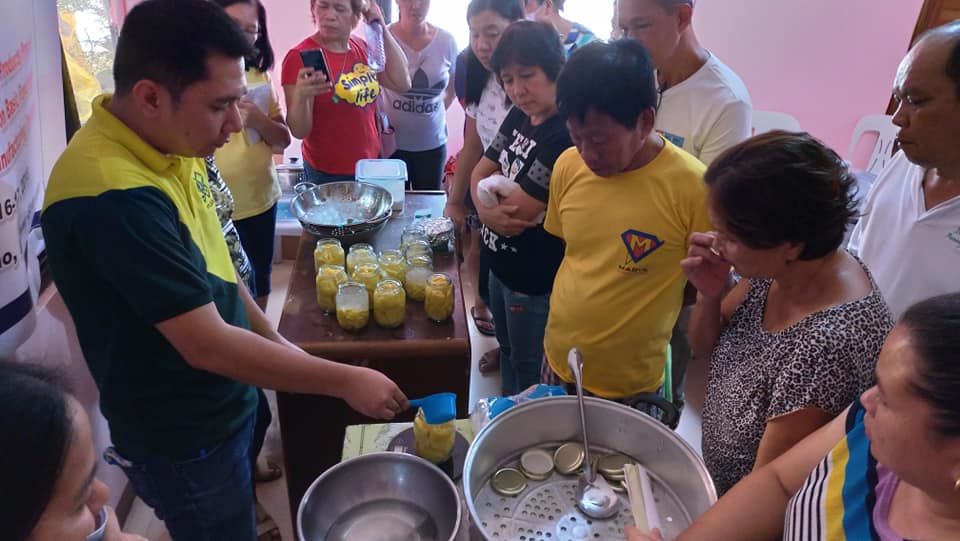 Their need for technical assistance to realize their goal of putting up jackfruit-based processing enterprise paved way for Local Government of Malvar, Kabalikat Sa Hanapbuhay Foundation, Inc., DOST Batangas and University of the Philippines Los Baņos - Institute of Food Science and Technology's (UPLB-IFST) collaboration. Product development on jackfruit was conducted by experts of UPLB-IFST. The distinctive aroma and sweet flavor of jackfruit were developed into tastebuds-satisfying processed food.
Recipes on jackfruit jam, jackfruit yema pastillas, jackfruit in syrup, jackfruit puree, dried jackfruit, jackfruit flakes, jackfruit seeds chips, and jackfruit flavored-banana chips were developed and translated into a standard formulation ready for small scale production. Experts Ms. Claire Zubia, Mr. Romel Felismino and Mr. Joel Rivadeneira also facilitated the training on jackfruit-based products processing held at Senior Citizen Bldg., Brgy. Bilucao, Malvar, Batangas on August 16-17, 2018.
Meanwhile, to educate the participants on the food safety regulations by both local and international regulating bodies that they would need to comply, inclusion of the "Awareness-Seminar on Basic Food Hygiene and current Good Manufacturing Practices in Food Processing" facilitated by Mr. Ellgine Libao was also conducted.
Health benefits of jackfruit was also discussed with the participants. Presence of high level of carbohydrates and calories providing energy, antioxidants protecting body from cancer, aging, and degenerative disease, and potassium maintaining fluid and electrolyte levels in balance were among the highlights of the discussion. Indeed, Malvar really got jackfruit of all trades!
Source: http://region4a.dost.gov.ph/news/95-2018-news/1092-malvar-s-jack-fruit-of-all-trades