News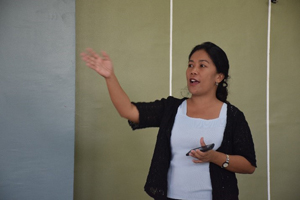 Prof. Janeth Morata-Fuentes, program leader, presents the program overview (Image credit: Eirene Grace C. Zaragoza, Forestry and Environment Research Division (FERD), PCAARRD)
PALO, Leyte – The Philippine Science High School in Eastern Visayas Campus (PHSH-EVC) emphasized the importance of preserving biodiversity in the region through the Biodiversity and Vulnerable Ecosystems Research (BiVER) Program. It is funded by the Philippine Council for Agriculture, Aquatic and Natural Resources Research and Development of the Department of Science and Technology (DOST-PCAARRD).
According to Prof. Janeth Morata-Fuentes, program leader, there is a need to become more adaptable to our environment with the effects of climate change. With the rich marine and terrestrial resources of Eastern Visayas, the whole region has also become more vulnerable to stronger typhoons and heavier rainfalls due to climate change.
The BiVER program, through the data it can provide, intends to help agencies like the Department of Environment and Natural Resources (DENR) and Local Government Units (LGUs) in their policy-making endeavors and in the creation of evidence-based resource management programs. The program also aims to offer PSHS scholars a training ground to develop their research skills, as well as allow them community immersion experience.
Expected outputs of the program include inventory of flora and fauna, data on environmental quality of ecosystems, computational models of economically-important river systems, and a BiVER database system and website, which will store research data and serve as accessible source of information for the public.
This project is the first collaboration of PSHS and PCAARRD. PCAARRD Acting Executive Director Dr. Reynaldo V. Ebora hopes that this is not the last.
Source:http://www.pcaarrd.dost.gov.ph/home/portal/index.php/quick-information-dispatch/3310-pcaarrd-funds-project-to-survey-vulnerable-ecosystems-in-eastern-visayas