News
The Pateros government has taken a decisive move to revive the dying industry of producing balut or boiled fertilized duck eggs in a bid to boost food tourism in the municipality.
With assistance from the Department of Science and Technology (DoST) and the Department of Tourism (DoT), Pateros is introducing a new incubator technology to revitalize its duck-raising industry, following the decline in the lifespan of ducks that started in the early 1970s.
The massive demise of ducks was largely attributed by the Pateros government to the ecological state of the Pasig River, which is connected to the Pateros River.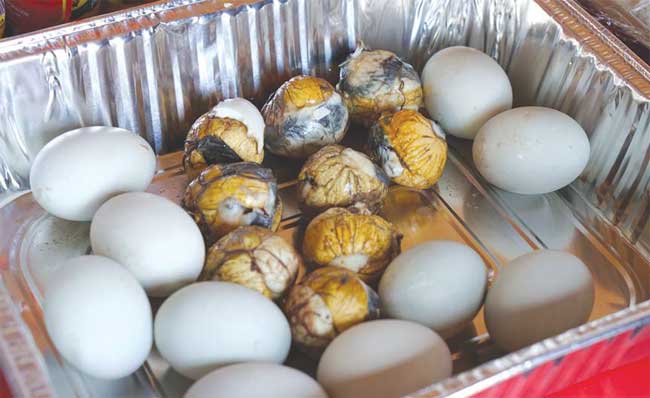 Balut or boiled duck eggs are offered for sampling during the Pateros' Balut sa Puti Festival. Photo by Orven Verdote
"I believe that in a year or two, balut will be the main industry of the municipality again," Pateros Mayor Miguel Ponce 3rd said.
While the town has lost the duck-raising industry, it has largely relied on eggs from neighboring provinces such as Bulacan, Pampanga and Nueva Ecija, which have vast rice fields that are ideal for raising ducks.
"But the balut-making here in Pateros has been continuous. And we are currently very active in the revival program of our balut industry," Ponce explained.
"Tourism is all about experience. We want the people to experience something authentic, so this is it — the balut of Pateros," DoT-National Capital Region (NCR) Officer in Charge Cathy Agustin said.
The DoT-NCR reported that some 20 balut makers are left in town, 10 households of which still use traditional means of producing the delicacy. These vendors produce thousands of balut daily and sell them for P13 to P15 per piece.
"We want to push the promotion of balut as a community business livelihood and a culinary tourism product," said Agustin, who explained that the DoT was keen on making the dish a staple in restaurant, catering and eatery menus.
The municipal tourism office said the local government would form a Balut sa Puti Commission to be the responsible body to promote, supervise and sustain the revival projects for the industry.
Plans to put up a Pateros Duck Farm in the neighboring Rizal province is also being discussed.
"The tourism industry in Pateros is basically focused on balut, food tourism. Food tourism is well alive here. We may not be known for tourist spots, but it is our balut that makes Pateros stand out," Pateros acting tourism officer Renato Bade shared.
Source: https://www.manilatimes.net/pateros-to-boost-food-tourism/536469/