News
From waste to innovation
Sunday, April 21, 2019 12:00 AM Views : 2089
TDT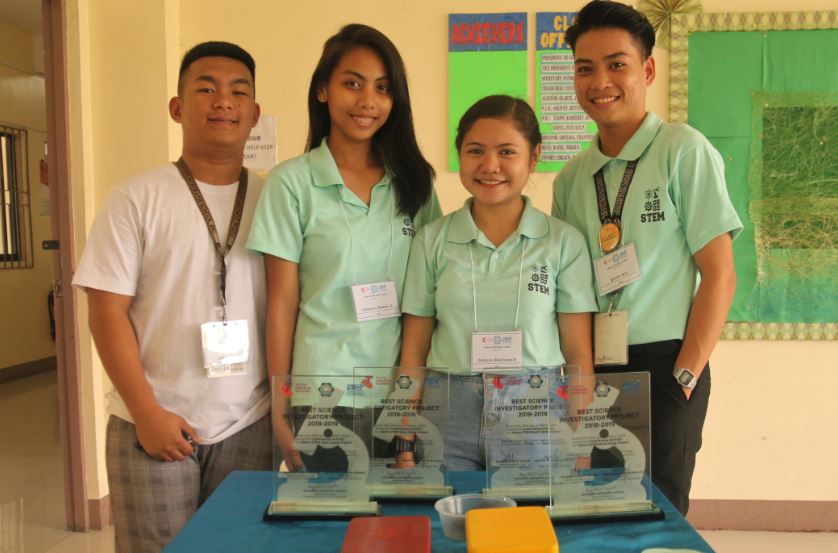 THE team who developed the project which used human hair treated with keratin as reinforcement in cement bricks.
Did you know that the human hair can strengthen cement bricks or that you can use cigarette butts to make paper?
These are just some of the innovative investigative projects that senior high school students of Pasay City South High School came up with during the Science, Technology, Engineering and Mathematics (STEM) Boot Camp organized by Telstra Foundation Philippines Inc. (TFP) in partnership with Philippine Business for Social Progress (PBSP).
The 11-week STEM Boot Camp encouraged the students to pursue a career in the STEM disciplines and mentored them in developing their investigative projects. Around 200 employee-volunteers from Telstra and representatives from the Departments of Education (DepED) and Science and Technology (DoST) were also around during the culminating activity to see the finished projects of the students.
The STEM Boot Camp is one of the components of Telstra and PBSP's assistance project to Pasay City South High School.
"The boot camp was an enjoyable experience. We had motivational and inspirational speakers who helped us develop our skills and abilities in investigative research. They also encouraged us to love science and discover its purpose in our lives," Laurence Lopez, a participant of the boot camp, said.
Young innovators

The students who took part in the activity were grouped together to develop their projects, which range from agriculture technology to disaster management. Experts from various fields and DoST were also invited to select the top five projects. Employee-volunteers of Telstra also voted for their favorite project during the event.
The team who developed "Human Hair with Impregnation of Keratin as Fiber Reinforcement to Cement Bricks: An Approach to Hair Waste Management and Application to Civil Construction" bested 34 other projects.
The team, composed of Rhence Cunanan, Ivan Facun, Rj Ignacio and Rea Evelyn Pallarco, improved the tensile strength and crack resistance of cement bricks by mixing cement with hair soaked in keratin.
"Recycling hair into fiber reinforcement of cement bricks can help in solid waste management. Aside from that, the hair also improves the crack resistance of cement bricks," Ignacio said.
Another project, "Cellulose Acetate Cigarette Butts as an Alternative Source for Paper" won the employee-volunteer's choice award and placed second. The team, composed of Ely Bryan de la Cruz, Alexandra Jane Fiedalan, Laurence Lopez and Angelyn Ocampo, explained that they wanted to create a project that would help reduce waste.
"Cigarette butts are among the most common wastes in the country. By recycling it into paper, we are reducing waste, and at the same time, meeting the demand for paper. It will also help reduce the cutting down of trees which are the main source of paper," Lopez explained.
Volunteers as mentors

The STEM Boot Camp is one of the components of Telstra and PBSP's assistance project to Pasay City South High School. The project also included trainings for STEM teachers on laboratory management and construction and other related topics to enable them to effectively teach the curriculum. The school also received laboratory supplies and materials.
"The school doesn't have enough facilities and trainings for teachers. Telstra came in to help the school boost their STEM curriculum by providing funds and materials for the investigative projects of the students and organizing learning sessions with scientists to inspire them to think outside the box," Maureen Anne Besabe, foundation lead of TFP, said.
Employee-volunteers from Telstra were also invited to share their expertise in the field of STEM.
"Our employee-volunteers shared their knowledge on topics like cyber security and video production. They also helped the students develop their investigative projects by guiding them on how to present and improve their projects," Besabe said.
Source: https://tribune.net.ph/index.php/2019/04/21/from-waste-to-innovation/