News
DOST-7 accepting entries for 2019 inventions competition
Tuesday, April 23, 2019 12:00 AM Views : 1557
Irene R. Sino Cruz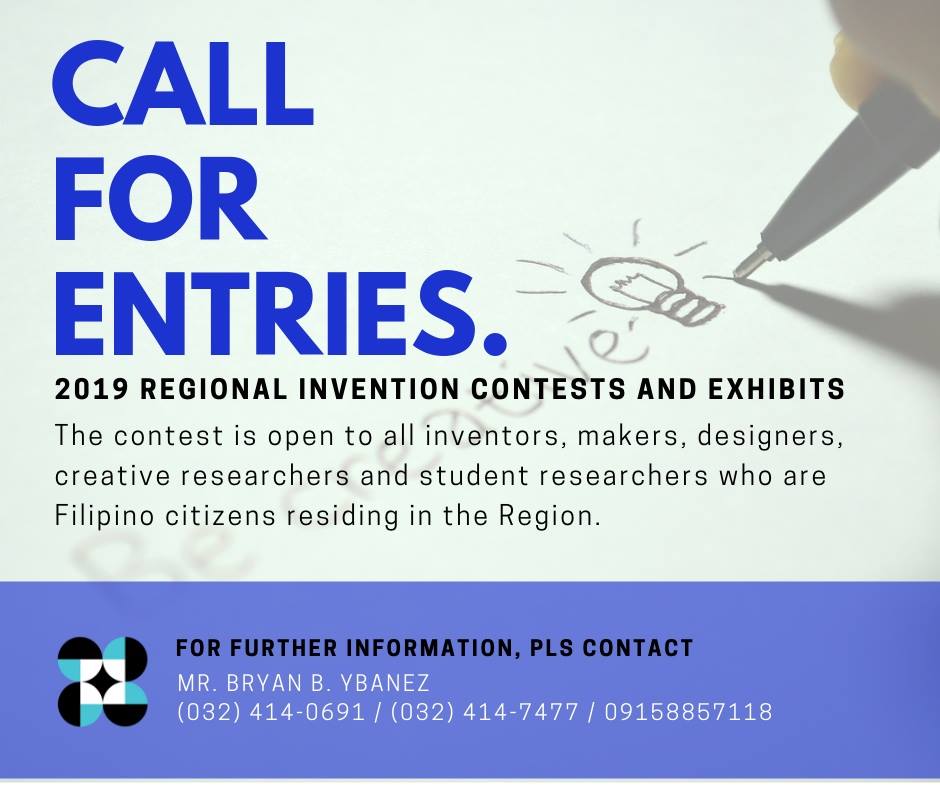 DOST-7 is inviting local inventors to join this year's inventions competition. / DOST-7 FB page
CEBU CITY, Philippines—The Department of Science and Technology (DOST) in Central Visayas is now accepting entries to its regional inventions competition scheduled in June as part of the biennial Regional Invention Contests and Exhibition (RICE).
According to DOST-7, RICE, which is among the activities of the Cebu Business Month, will showcase the intellectual works of men and women of science.
The competition is designed to boost science creativity and innovation. It also aims to stir public interest in science.
The regional competition, which will be held on June 12-14 at the Waterfront Cebu City Hotel, serves as the qualifying round for the National Invention Contest.
In its Facebook post, DOST-7 said that the Regional Invention Contest is open to both public and private sector inventors and researchers in the region.
The six categories in the competition are the Outstanding Invention (Tuklas Award), Outstanding Utility Model, Outstanding Industrial Design, Outstanding Creative Research (Likha Award), Outstanding Student Creative Research (Sibol Award) for High School and Outstanding Student Creative Research (Sibol Award) for college students.
The entries in the invention category should be any new technical solution to a problem in any human activity that involves inventive steps and is industrially applicable. It could also relate to any product or process and their improvements.
The entries in this category are required to have valid patents issued by the Intellectual Property Office of the Philippines.
Under Utility Model Category, entries should involve technical solution to a problem in any human activity. It must also be new and industrially applicable subject to certain conditions provided by law.  Entries must be supported with valid utility model registration.
In the Industrial Design Category, entries involve any composition of line or color or any three-dimensional form whether or not associated with lines or colors, provided that line or color gives a special appearance to and can serve as a pattern for industrial product or handicraft. The entries in this category must also be covered by industrial design registration.
On the other hand, Creative Research Category involve entries that refer to patents pending invention, registration pending utility models, and industrial designs and research results without application patents, utility model and industrial design registration.
The entries to the Student Creative Research for College and High School refer to new and innovative projects or models developed by college and high school students.
Contestants have to submit all required documents to the DOST Regional Office not later than 5 p.m. on May 24, 2019.
DOST-7 has also set a May 31 deadline for the students' creative research category.
Those interested to join the competition could get in touch with DOST 7 Regional Office or the nearest Provincial Science and Technical Centers in the region.
Source: https://cebudailynews.inquirer.net/229860/dost-7-accepting-entries-for-2019-inventions-competition