News
LGUs in W. Visayas urged to utilize DOST weather system
Wednesday, June 26, 2019 05:42 AM Views : 249
Gail Momblan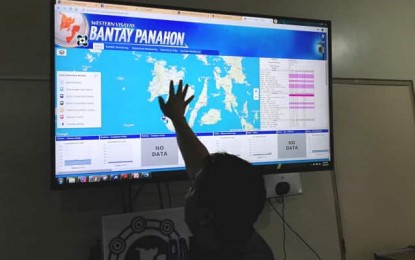 WEATHER WATCH.The Department of Science and Technology in Western Visayas (DOST 6) urges the local government units to utilize its web-based monitoring system 'Bantay Panahon' for real-time weather updates. DOST 6 said Tuesday (June 25, 2019) the information found in the system can help LGUs to prepare early against flooding. (PNA Photo by Gail Momblan)
ILOILO CITY -- The Department of Science and Technology in Western Visayas (DOST 6) has urged local government units (LGUs) to utilize its web-based monitoring system "Bantay Panahon" to be able to access real-time weather updates.
"Bantay Panahon," which can be accessed through http://bantaypanahon.dost6.info/, works through around 160 hydrometeorological stations distributed in Western Visayas.
"We came up with our own monitoring stations that can display rainfall and water level in the region," said Ryan Vilmor Dumpit, science research specialist and Disaster Risk Reduction and Management Unit head of DOST 6 on Monday.
The LGU can establish a "threshold" based on the rainfall and water level that appears in the system. By establishing a threshold, the LGU can prepare for the possible occurrence of flooding.
"For instance, when we say the level is at 40 percent in that area and it can trigger flooding in the community, the local government unit can already advise the locals to evacuate earlier," Dumpit explained.
The same works with the amount of rainfall shown in the system as it can also be utilized for early preparations.
"If the system shows for example that 50-millimeter (mm) rain causes flooding in that area, the local government unit can inform the affected community to evacuate," he said in an interview.
Citing their experience, Dumpit added flooding happens when the data shows high rainfall reading, which usually ranges from 50 mm and above.
Localized thunderstorms, which come with heavy rains, can also trigger flooding "but not as massive" with flooding triggered by widespread rainfall, he said.
Aleta Nogra, disaster risk reduction and management council head of the Office of Civil Defense in Western Visayas, has advised local government units to always prepare for the occurrence of flooding.
Iloilo and Capiz are considered as flood-prone areas but Nogra said all provinces should also prepare to avoid disasters. (PNA)