News
DOST-DCCCO hold trg on candle making for Dgte PWDs
Wednesday, October 16, 2019 02:56 AM Views : 35
Leandria Pagunsan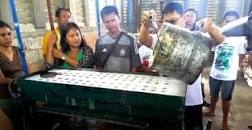 Engr. Erwin Bayawa (partly hidden), owner of Jeemz Candle Maker in Tanjay City, demonstrating to Persons with Disabilities (PWDs) the process of mass candle production during the candle-making training held in Tanjay City, Negros Oriental on Oct. 7-9, 2019. (lpp/PIA7/Negros Oriental)
DUMAGUETE CITY, Oct. 14 (PIA) -- The Department of Science and Technology (DOST) Negros Oriental Provincial Science and Technology Center (PSTC) together with Dumaguete City Credit Cooperative (DCCCO) conducted a skills training on advance candle making at Jeemz Candle Maker compound in Fisherman Village, Brgy. Tugas, Tanjay City, this province on Oct. 7-9, 2019.
Around 14 participants composed of persons with disabilities (PWDs) from Brgy. Banilad, this city participated in the activity.
The three-day trainining aimed to capacitate PWDs on the process of mass candle production. 
Rommel Romagos, DOST's training coordinator, emphasized to the participants during the training that patience, dedication, and focus should be observed to achieve the goal of learning the proper training in candle making.
Meanwhile, Monaliza Nemenzo, DCCCO livelihood program coordinator, added that DCCCO management will always look for opportunities to help alleviate the living condition of their PWDs assisted association.
Engr. Erwin Bayawa, proprietor-owner of Jeemz Candle Maker which is a set up-assisted association in Tanjay City, served as the resource person during the training.
With DOST's various training programs, Romagos encouraged other interested organizations to avail of DOST NegOr's training services.
Those interested to avail of the trainings may call (035) 421-2100 and 225-4551 or via email dostnegor@gmail.com or visit their office in Daro, Dumaguete City. (lpp/pia7/NegOr/with reports from Rommel Romagos/DOST NegOr Media Services)