News
PILI: THE NEXT "TREE OF LIFE"
Friday, June 01, 2012 12:00 AM Views : 7062
DENR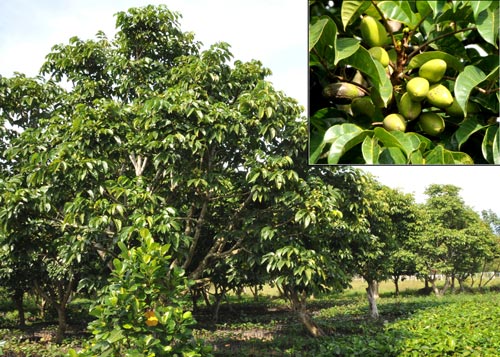 Because all of its parts have immense use for man, the pili tree is fast gaining fame as the "tree of life", next to the coconut tree.
Pili belongs to the Canaruim genera of the Burseracea family. It is believed that there were 53 species of the Canaruim genus that used to thrive in the Philippines, but its number has been reduced to nine. At present, the two most commercially-important species are the Canarium ovatum and Canarium luzonicum.
The pili fruit has a thin skin, a pulpy middle and a hard core part that contains its kernel. The fruit is usually 4 to 7 centimeters long, 2 to 4 centimeters in diameter, and weighs 15 to 45 grams. Its kernel - rich in magnesium, phosphorous, potassium, calcium, ascorbic acid, riboflavin, zinc, copper, iron, sodium, thiamine and niacin - can be eaten raw, or roasted. Its pulp is also pickled or cooked. Boiled pili pulp resembles the sweet potato in texture and is considered to have food value similar to that of avocado.
Processed pulp yields edible oil used for cooking or as a substitute for cottonseed oil in the manufacture of soap and edible products. The leaves are used for salads and as relish. It is also a nutritious feed for cattle and swine. Its hardy shell is used in handicrafts or for charcoal, firewood and as medium for growing orchids and anthuriums. The trunk is an ideal material for quality furniture, wood panels and doors.
But, perhaps, its most desirable part is its sap from which a valuable resin called elemi is tapped from the bark. Even without tapping, the pili tree naturally exudes its resin from its bark and roots.
The elemi can be sourced from both species, although the C. ovatum is used more for harvesting the pili kern which have higher nutritive and commercial value while C. luzonicum trees have higher sap yield but of lesser quality pili kernels. Hence, much of the resin obtained is from the trunk of C. luzonicum.
Locally known as "salong, sahing, pulot or pilit," the elemi gives out an essential oil called limonene, which is used in the manufacture of perfumes because of its lasting aroma that blends well with lavender, rosemary, frankincense, sage, myrrh, patchouli, vetiver and other international fragrances
Elemi generally refers to a variety of resinous products obtained from different countries especially in the Southeast Asian region, but the Food and Agriculture Organization (FAO), in its Corporate Document Repository titled "Gums Resins, and Latexes of Plant Origin," lists the Philippines as the only source of internationally traded elemi as it is preferred by major players in the world perfumery industry, thus, the name "Manila elemi".
Manila elemi is the fragrance component used in luxury perfumes and skin conditioners of some international brands.
Due to its consistency and low volatility when dissolved in water, the limonene essential oil of Manila elemi is also a favored component of water-based aromatic scent used in air fresheners, stationeries, tissue papers, ballpen inks, coatings, candles and cosmetics.
Its aromatic scent can be described as fennel and dill-like with citrus and woody notes. A kilo of the pili resin can sell at least P70 per kilogram.
Agroforestry crop
In its effort to bring back the honor as the "land of pili", local governments in the Bicol region, particularly Camarines Sur, has launched a massive planting of the species under the National Greening Program.
Source:http://www.denr.gov.ph/index.php?option=com_content&;view=article&id=582&Itemid=