News
New milkfish feed formula means more, fatter harvest
Friday, June 29, 2012 05:24 AM Views : 2270
PAUL ICAMINA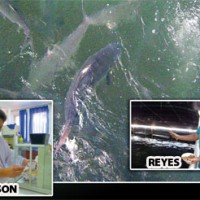 TIGBAUAN, Iloilo – Ofelia S. Reyes loves a feeding frenzy. It means her bangus breeders love her feeds.
Reyes, a scientist at the Southeast Asian Fisheries Development Center (SEAFDEC), specializes on larval nutrition. She is looking for the ideal feed for milkfish broodstock, or the breeders that produce the bangus fry on which the industry depends for production.
In 2008, she fortified existing broodstock with a diet enriched with soyabean lecithin. She found that egg production and quality were not so desirable.
Since 2009, she has researched other nutrients to improve the quality of bangus eggs. When she tried to enrich feeds with micronutrients like beta carotene and fatty acids, normal larvae development improved significantly.
Last year, Reyes concocted a feed fortified with arachidonic acid, a fatty acid. She saw 96 percent of the milkfish eggs develop into normal larvae, an increase from the 84 percent to 89 percent achieved in 2001 without feed fortification and the 94 percent in 2007 with fortified feeds.
"These are new findings," Reyes told Malaya Business Insight. "I'm wrapping up my studies this year."
Her research considers the important role of micronutrients that are necessary for egg growth and needed for the development of the gonads where the eggs develop.
"Because of the high percentage of normal larvae with the new feed, it means it's good for larval rearing, with a high survival rate after the hatchery phase of 21 days to 26 days," she said.
(The larvae are produced right after hatching from the eggs of a spawner, or mother sabalo. It develops into milkfish fry or semilya after 21 days. After that, it becomes a fingerling up to 60 days.)
The arachidonic and betacarotene micronutrients are incorporated into the diet through feed pellets made of fish meal and soybean.
The pellet fortified with arachidonic and betacarotene costs about P68 per kilogram compared to the conventional feed pellet at about P50 a kilogram.
Broodstocks are given feeds amounting to 1 percent or 2 percent of its body weight; for a 15-kg. sabalo, that's about 1.5 grams of fortified feed pellets.
After two years of observation, from 2008 until 2011, the fortified diet will be demonstrated at SEAFDEC's Integrated Finfish Broodstock and Hatchery Complex this year.
Fortified feed is now given to broodstocks at the hatchery. Larval rearing is done at a stocking density of 15 larvae per liter. Feed are given every two hours. Survival is assessed after 21-25 days of feeding.
After a thorough review, SEAFDEC will recommend the new formulations later this year or by the first quarter next year.
It will be the first time that arachidonic and betacarotene are being recommended for inclusion in the diet of the milkfish broodstock. Vitamins C and E are already incorporated into conventional diets.
New technology
The new feed technology will be useful to feed millers, especially those with their own broodstocks and hatcheries.
After three years of observation, Reyes is confident of the big production picture at this point.
Before the new feed formulation, Reyes said, the mineral mix given to spawners did not contain arachidonic and beta carotene which has been found in other studies to improve gonad development of spawners in tropical and even in temperate environments.
Arachidonic and beta carotene micronutrients are used in temperate countries for spawners like salmon and have been found to improve egg quality.
"We went into micronutrients because the sabalo spawners were already domesticated and had no access to natural food in the sea that is rich in micronutrients," she said. "You have to improve on the micronutrients that are incorporated in hatchery feed."
The formulations are especially crucial for milkfish raised in concrete tanks which, unlike those raised in sea cages in the open sea, have no access to micronutrients. No study has yet been made whether micronutrients are needed in fish cages in the open sea.
Reyes based her data on observations of the broodstock in 20- and 10-ton larval tanks at SEAFDEC's Integrated Fish Broodstock and Hatchery Complex. The bigger production set up is about similar to conditions in actual hatcheries, compared to previous studies in laboratory settings in 250- and 500-liter tanks.
At the hatchery complex, the broodstock ratio is one female to two males; the ideal is 1:1. The ratio is not known in nature.
It used to be that fry are harvested along seashores from May and July. Today, there are almost no fry collectors because of the dwindling numbers of fry in the wild.
For their fry supply, bangus farms now rely mostly on hatcheries which, in turn, rely on broodstock hatcheries.
"Because there's little fry in the wild, there's no other choice but to go to hatcheries," Reyes pointed out.
However, she said, farmers have complained of the high mortality and slow growth in local and imported milkfish fry. "So it was time to improve the feed for local milkfish broodstock to produce more fry and satisfy the demand of bangus producers."
The SEAFDEC intervention is to provide broodstock farms with the fortified feed to ensure quality fry production.
"Because of this intervention, quality supply is assured," Reyes said.
"Due to the improvement in and expansion of milfish aquaculture, the demand for good quality seeds is increasing," she said. "One way to meet the demand is to improve the nutrition of broodstocks by providing specific micronutrients and improve spawning frequency, produce good quality eggs and eventually improve the survival of larvae."