News
Guimaras steps up campaign against worm infections
Thursday, July 26, 2012 12:00 AM Views : 1252
Mitzi Evora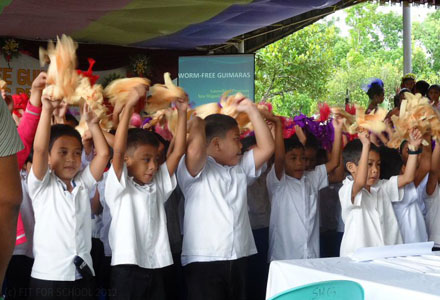 BUENAVISTA, GUIMARAS- Fit for School has joined the World Health Organization's initiative for worm infection eradication through its support of the "War on Worms" in Guimaras Island.
The official launching of the program was held last July 20 where Fit for School joined the Department of Health and Department of Education in signing a Memorandum of Agreement for the said campaign.
The University of the Philippines Manila – National Institutes of Health, UNICEF, and Johnson & Johnson, Inc. also pledged their full support for the program.
"The war on worms has two approaches: One is worm infection control and the other one is eradication," said Guimaras Governor Felipe Nava in a report published by the Philippine News Agency.
Gov. Nava said that once successful, the project will be replicated in Asia. According to the same report, close to 14,000 elementary pupils and secondary students in public and private schools all over the province will be subjected to mass drug administration.
Fit for School will assist the campaign through its continued support to the Department of Education's (DepEd) Essential Health Care Program (EHCP) in public elementary schools throughout the province.
DepEd Division of Guimaras and the local government have been implementing the program since March 2010. The program has recently garnered the support of UNICEF and Procter and Gamble.
The EHCP involves daily handwashing with soap, daily toothbrushing with fluoride, and bi-annual deworming.
These simple initiatives prevent child-related diseases such as diarrhea, which has been identified by UNICEF as the leading cause of death of almost 10,000 Filipino children each year. The DepEd flagship program has been proven effective to reduce worm infections by 50% in implementing areas.
"As a member of Guimaras Action Team, Fit for School plays an important role in the reduction of high cases of intestinal worms in the province as deworming is one component of the EHCP," said Zander Frofunga, Fit for School Regional Project Officer for the Western Visayas.
"We need not just deworming but by practicing preventive measures especially proper handwashing," Frofunga added, echoing the message that Gov. Nava and UNICEF Philippines WASH (Water, Sanitation and Hygiene) in Schools officer Jon Michael Villaseñor stressed in their speeches regarding basic hygiene as an important component in the campaign.
With DepEd's EHCP already in place in the province and the strengthened advocacy against intestinal worm infections, the children of Guimaras are on their way to winning the war.
Source:http://loqal.ph/nation-and-world/2012/07/26/guimaras-steps-up-campaign-against-worm-infections/