News
DOST presents road train other technologies in innovation congress
Friday, April 12, 2013 12:51 PM Views : 1633
People's television (ptv)
In a recent innovation congress, Department of Science and Technology Secretary Montejo introduced the Road Train, one of the DOST's proposed advanced transport systems that will help ease traffic conditions in Metro Manila. He said the Road Train will be an effective means of transporting people on the road.

"(The Road Train is) not that high-tech, but it is innovative in its strategic use of existing applied technologies to introduce (a new) mass transit system, which can resolve (our traffic problem), or at least part of it," Secretary Montejo said.
He added that the technology is an offshoot of system development of the Automated Guideway Transit or AGT, an elevated rail transport considered as the first locally developed train now undergoing functional tests at the University of the Philippines Diliman.

The innovation congress, dubbed "ICon" and held recently at the Bonifacio Global City in Taguig City, also showcased other DOST innovations such as Project NOAH, along with the latest advances in car manufacturing technology and design, gadgets developed by various companies, and other smart devices.
ICon is a joint activity of the DOST and the Association of Vehicle Importers and Distributors or AVID.
The ICon spotlights the country's brand for innovation called "Filipinnovation" and promotes DOST's advocacy for a "Smarter Philippines". Participants to the event include the academe, businessmen, and diplomats, along with the biggest names in the car industry.

"The ICon is quintessentially a public-private partnership that denotes a very important theme at the core of our work in DOST—innovation", said Secretary Montejo.

"Innovation is the key enabler of productivity, a driver of growth in successful economies, and, in a very concrete sense, at the heart of economic development," he added.

AVID President Ma. Fe Perez-Agundo likewise said that the ICon not only aims to foster a mindset of innovation but is also an effort to elevate the country in the Global Competitive Index.

"We want the Philippines to become a recognized player in the global arena," she said.

The ICon showcased various facets of innovation including megatrends, technopreneurship, technology business incubators, government policies and programs on innovation, and "smart cities", a concept conceived and introduced to the world by IT giant IBM.

Among the high-profile speakers were National Academy of Science and Technology President and former DOST Secretary Dr. William Padolina, who talked about the latest researches in hard sciences and government initiatives; Rappler Chief Executive Officer (CEO) Maria Ressa, who expounded on seeing the world in "God's Eye View" through social media and the imperative of harnessing this power; IBM Philippines Chief Technologist Lope Doromal, Jr. who explained the principle of Smarter Cities (which served as platform for DOST's Smarter Philippines Program); Integrated Micro-Electronics, Inc. CEO Arthur Tan who discussed global megatrends, convergence, and pervasive connectivity; and Hyundai Chief Design Manager Casey Hyun who enlightened the audience on the rudiments of automobile design and some of the most recent developments in this area.

The Icon's second day emphasized role of media in science and technology (S&T) and trends in S&T communication. Among the speakers were DOST Science and Technology Information Institute Director Raymund E. Liboro, Representative Angelo Palmones, Former ASEAN Foundation Director Dr. Filemon Uriarte, Jr., Business Mirror Science Editor Ms. Lynn Resurreccion, and National Research Council of the Philippines President and National Scientist Lourdes J. Cruz, among others.

All ICon participants wore radio-frequency identifications produced by Itemhound Corporation, one of the successful beneficiaries of DOST's technology business incubator program.
Pushing the "launch button" for the opening of the Innovation Congress or ICon are Department of Science and Technology Secretary Mario G. Montejo and Association of Vehicle Importers and Distributors (AVID) President Ma. Fe Perez-Agundo, together with other AVID officers. The high-profile event placed the spotlight on Filipino innovation, as key leaders from various sectors and businesses shared their ideas about harnessing the power of innovation in driving the country's economy. ICon showcased the newest smart devices and technologies for a broad range of industries including the latest advancements in car design and manufacturing through a Mobility Expo. The ICon ran from April 5 – 7 at the ICon Tent in Bonifacio Global City, Taguig. (Photo by Henry A. De Leon/ Text by George Robert Valencia III, S&T Media Service, DOST-STII)
DOST Secretary Mario G. Montejo introduces another solution to Metro Manila's vehicular traffic problem: the DOST Road Train. This train runs on the road and no longer on elevated railway. Secretary Montejo said that this new proposed transport system can service up to 650,000 commuters on EDSA and will complement the main thoroughfare's existing traffic system. A locally developed technology and made of locally available materials, the road train is a perfect example of a fully Filipino innovation, much like the DOST Automated Guideway Transit, said Secretary Montejo. (Photo by Henry A. De Leon/ Text by George Robert Valencia III, S&T Media Service, DOST-STII)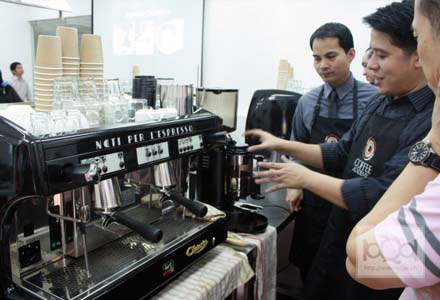 IBM Philippines Chief Technologist Lope Doromal, Jr. presents the concept of Smart Cities originally conceived and developed by the global company. The concept harnesses the power of ICT in an increasingly interconnected, instrumented, and intelligent landscape or environment. Smart Cities also serves as a platform for DOST's Smarter Philippines Program, which was launched in Davao City February this year. (Photo by Henry A. De Leon/ Text by George Robert Valencia III, S&T Media Service, DOST-STII)
Integrated Micro-Electronics, Inc. (IMI) CEO Arthur Tan talks about global megatrends, convergence, pervasive connectivity, and some smart devices the company is now developing. (Photo by Henry A. De Leon/ Text by George Robert Valencia III, S&T Media Service, DOST-STII)
Hyundai Chief Design Manager Casey Hyun shares his extensive knowledge in car design and some experiences about climbing the corporate ladder in one of the world's most recognized car manufacturing companies. (Photo by Henry A. De Leon/ Text by George Robert Valencia III, S&T Media Service, DOST-STII)
Source:http://ptvnews.ph/index.php/bottom-news-life2/15-15-science-and-technology/15584-dost-presents-road-train-other-technologies-in-innovation-congress