Technology
The  color sorter technology for rice has really paved the way for increased productivity of our current facility," said Leonard M. Garcia who started his rice mill business with his wife on January 20, 2005. "Before the intervention of the Department of Science and Technology, we were able to produce 40 percent good quality commercial rice and the other 60 percent graded as 'slight' by rice traders,"  he quipped.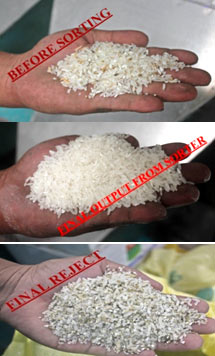 The color sorter technology is intended to improve the commercial rice productivity and quality. In Garcia's rice mill, the facility was finally installed last September 2, 2013. The firm is one of the Small Enterprise Technology Upgrading Program (SETUP) beneficiaries in the 2nd district of Oriental Mindoro for the current year and got the biggest allocation in the province for equipment upgrading since 2004. The technology is also the first ever to be established successfully in the southern part of the province.
The quality rice commands better price in the market compared to the one that is "slight", the term used to describe discolored and chalky rice with impurities such as stones, weed seeds, and broken grains.
With the acquisition of the new technology, it is expected that the previous production of quality rice will turn to 60 percent and the other 40 percent into "slight." This will translate to 20 percent increase in productivity and, eventually, sales. Nowadays that commercial rice prices are on its peak, a 50-kg bag will fetch around P1,850 on a wholesae basis compared with "slight" which costs P1,550.
The couple is all smiles as they see bigger opportunities during this harvest season when it comes to producing quality commercial rice with the new technology provided by DOST through the (SETUP).
The color sorter machine