Technology
The Department of Science and Technology (DOST) developed the DOST immersion freezer to meet greater demands in food preservation by the food industry.
As the name suggests, the immersion freezer has its contents (usually food products) submerged in cold liquid that serves as freezing agent.
Specifically designed for small and medium enterprises, the DOST immersion freezer looks like a bigger-than-normal grocery chest freezer. It has a maximum volume capacity of 1000 liters and a freezing capacity of 60 kilograms per hour for ice-making.
It is more efficient than the common home freezer, a regular chest freezer or an air-blast freezer. It uses brine (water saturated with salt) as a coolant pumped in the cold storage to flow through the cooling coils and then to the products. This mechanism precipitates faster cooling because heat transfer between liquid and solid is greater than air to solid. It is important, however, that the food package be properly sealed so that the brine will not seep into the product being cooled.
The freezer is also equipped with adjustable coolant temperature settings to meet specific requirements of different food materials. There are also dividers to cool smaller amounts of product, with separate controls for each division. This makes the freezer more efficient both in cooling and power consumption.
The DOST immersion freezer is also competitively priced. Further, its cost-effectiveness and efficiency make it a very important tool for the country's food processing firms.
The DOST immersion freezer is a collaborative project of the Industrial Technology Development Institute, Metals industry Research and Development Center, and the Project Management Engineering and Design Service Office.
Freezing is an old and common food preservation technique using phase change in which liquid turns into solid as its temperature is lowered below the freezing point. This process slows down the decomposition of food and the growth of microorganisms through lowered reaction rates and decrease of water content, discouraging bacterial growth. Aside from prolonging the shelf-life of foods, freezing is also indispensable to certain frozen items like ice cream, yogurt and simple ice.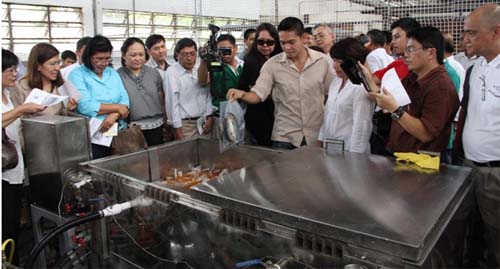 Engr. Brian U. Rasco of the Project Management Engineering and Design Service Office (PMEDSO) demonstrates to Department of Science and Technology (DOST) officials and personnel how the immersion freezer works for various types of food. The freezer uses brine (water saturated with salt) as coolant and has individually-controlled compartments for more efficient freezing. (Photo by Gerardo G. Palad)