Technology
Plywood, a structural material consisting of layers of veneers glued tightly together, is one of the most widely used wood products in the world. Introduced in the Philippines in the 1950s, it is a construction material most of us grew up with. But did you know that before it can be distributed in the market, plywood products must first be tested and stamped with the Philippine Standard or PS mark?
The DOST's Forest Products Research and Development Institute (FPRDI) hosts the only plywood testing laboratory in the country accredited by the Department of Trade and Industry's Bureau of Product Standards (BPS). Required by the BPS under Philippine National Standards 196:2000, the tests determine the thickness, moisture content, and bond quality of the plywood.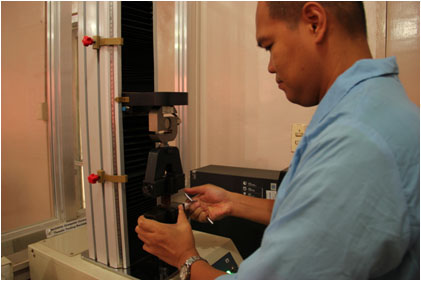 State-of-the-art equipment is used to test the plywood's shear strength.
"Plywood samples submitted by BPS are subjected to tests depending on their type," explained Engr. Juanito P. Jimenez Jr., Senior Science Research Specialist and Technical Manager of FPRDI-PTL.  "Type 1 or exterior/marine plywood is commonly used in boat making and in construction where outdoor exposure of the plywood is required. The strength of the glue will be ascertained after exposing the specimen to two cycles of boiling and then drying at 63°C for 20 hours," he added.
Known as interior or ordinary plywood, Type 2 plywood is used for indoor applications as partition walls, ceilings, or furniture among others. "Three cycles of soaking in water for four hours and drying at 49°C for 19 hours test the delamination strength of the specimen. The delamination test shows how the glueline will react when exposed to alternate wetting and drying," explained Jimenez. All test results are sent to BPS, which will then issue a Philippine Standard Quality Certification Mark License to qualified manufacturers or Import Commodity Clearance  for importers.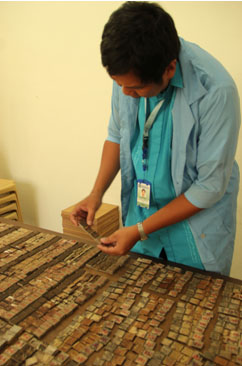 After subjecting the Type 1 plywood specimens to cycles of boiling, drying, and wet shear testing, a visual reading of wood failure is done to evaluate the glue bond quality.
Though BPS is FPRDI's main client, Jimenez noted that the Institute also accommodates testing requests from private companies. He stressed that with FPRDI's plywood testing, consumers are assured that the products they buy conform to Philippine standards of quality.
    
The FPRDI has been doing research on plywood and other forest-based products for decades now. For inquiries about the Institute's plywood testing services, please call (049) 536-2377/2586 or email [email protected]