embed this article
Above photo: Mr. Eduardo M. Atienza demonstrates bamboo finishing techniques. Lower photo: Trainees from the B'laan tribe work on their bamboo handicrafts (photos courtesy of For. Moreno L. Santander Jr.).
In support of the Duterte administration's socio-economic agenda that underpin rural development, the Department of Science and Technology's Forest Products Research and Development Institute (DOST-FPRDI) has intensified its technology assistance particularly to the country's tribal community.
Last July 18-20, 2017, FPRDI's Training and Manpower Development Services Section (TMDSS) held a lecture-demo on some bamboo processing technologies for Batak Craft — a livelihood development project for the Batak tribe in Palawan.
Led by its founder Ms. Lara Frayre, Batak Craft sought FPRDI's help in improving handcrafted baskets made mainly from "buho" bamboo. Among the topics covered were bamboo preservation, drying, handicraft making and finishing.
According to Ms. Frayre, their long-term plan is to develop a sustainable livelihood for the indigenous tribe and to set up a bamboo craft industry in Puerto Princesa, Palawan. As of now, Batak Craft is exploring ways on how best to utilize buho, which abounds in Batak communities.
A similar training on bamboo handicraft production was also conducted for the B'laan tribe of Koronadal City on June 27-29, 2017. Members of the Oluclufe B'laan Landcare Association – Farmers (OBLA) were taught to make bamboo lampshades, amplifiers, candleholders, and wind chimes.
The training was made possible thru the collaboration of DOST-FPRDI, DOST-Region 12, Provincial S&T Center-South Cotabato and the local government of Koronadal City. FPRDI's Dr. Ma. Cielito G. Siladan
Dr. Ma. Cielito G. Siladan Extension Education Training and Development (DOST-FPRDI)
, For. Zenaida R. Reyes and For. Moreno L. Santander Jr. coordinated and facilitated both trainings.
Numbering about 11 million today, the indigenous peoples are among the poorest sectors in Philippine society. According to a study by the Philippine Center for Investigative Journalism, they suffer from "lack of equal access to basic social services, compounded by a long history of discrimination and prejudice".
"We wish to be of help to our indigenous communities thru our technologies that are suited to their needs and the resources that abound in their areas," said DOST-FPRDI Director, Dr. Romulo T. Aggangan. He added, "With a holistic plan and strong partnership with other government agencies and people's organizations, we are optimistic that we can help better the lives of the IPs and other marginalized sectors in the country.'"
For inquiries on technology demonstrations and trainings, interested parties may contact (049) 536-2586 or 536-2377, or e-mail at [email protected]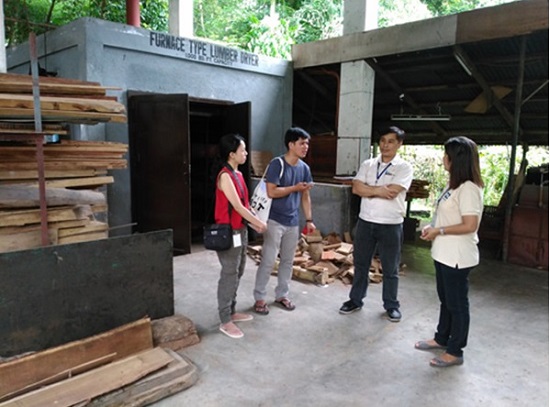 Engr. Caesar A. Cuaresma and For. Zenaida R. Reyes (in white uniforms) explain how DOST-FPRDI's lumber dryer operates.
Mr. Eduardo A. Atienza (in white shirt) presents some of the tools he uses for bamboo handicraft production.
A basket meticulously woven by a Batak weaver (photo from the Batak Craft Facebook page).