latest news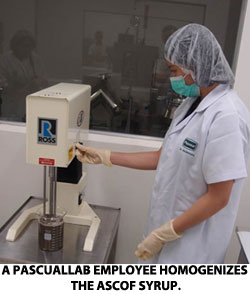 LAGUNDI started out as a simple folk remedy for cough and other illnesses. Filipino mothers would boil freshly-picked green leaves and strain them to produce an herbal tea, which is then given to an ailing member of the family. Through the years, its effectiveness was proven through intensive studies in modern medicine led by the Department of Science and Technology (DOST). Recognizing the efficacy of lagundi as a natural remedy for cough and asthma, Pascual Laboratories (PascualLab), in collaboration with the National Integrated Research Program of Medicinal Plants (NIRPROMP) introduced ASCOF Lagundi as the first herbal medicine in the country in 1996. Licensed by the Philippine Council for Health Research and Development (PCHRD) and DOST, ASCOF is currently the most successful phytomedicine (or plant-based therapeutic product) in the Philippines.
The initial production of ASCOF that began over a decade ago was done through a technology transfer from the DOST and NIRPROMP. This made it possible for PascualLab to manufacture quality medicine from organic lagundi leaves.
Today, PascualLab takes quality care to the next level by developing more advanced production technologies for ASCOF. Its Herbal R&D and Product & Process Development team collaborates with independent medical and research institutions and consultants both here and abroad, to continuously improve its products. PascualLab is committed to intensify its researches on lagundi, and is set to launch new product innovations within the year.
PascualLab is the only local pharmaceutical company in the country today with an advanced herbal research facility that is tasked to study and develop technology for phytomedicines, thereby opening up a world of possibilities in the future of healthcare. "With our second-generation technology, our production process is more efficient and more standardized, ensuring that ASCOF's phytoactive contents are consistent in every batch that is produced.