News
First-ever digital S&T library in PH now accessible to GIDA schools in Lanao Del Norte
Wednesday, April 28, 2021 03:44 AM Views : 463
Merlina Hernando-Malipot
To provide Science and Technology (S&T)-based educational and learning resources in various formats to geographically isolated schools, the Department of Science and Technology-Lanao Del Norte (DOST-LDN) handed over six units of STARBOOKS Digital Library to three schools situated in geographically isolated and disadvantaged areas (GIDA) in the province.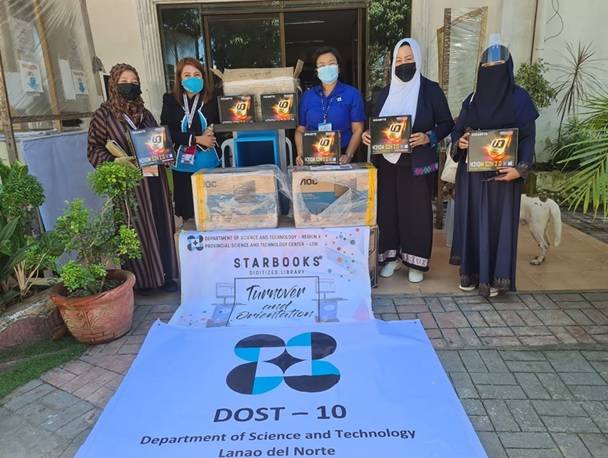 STARBOOKS turn-over at the DepEd Division Office in Tubod, Lanao del Norte (Photo from DOST)
DOST, in a statement issued Tuesday, April 27, explained that STARBOOKS or the Science and Technology Academic and Research-Based Openly Operated KioskS – which is dubbed as the first Philippine S&T digital library – is a "stand-alone information source designed to bring S&T information to the grassroots."
Aside from providing S&T-based educational and learning resources in various formats to geographically isolated schools and local government units throughout the country, "STARBOOKS" aims to enhance the educational competence of students in beneficiary schools.
The Masibay Integrated School, Munai National High School, and Pelingkingan Integrated School received the STARBOOKS units during a ceremonial turnover at the Department of Education (DepEd) Division Office in Tubod, Lanao Del Norte.
The schools, DOST said, have limited access to the internet, up-to-date textbooks, and reference materials because of their remote locations.
For Gerrylou Sweet Pia, DOST-LDN Community Empowerment through Science and Technology (CEST) program focal person, the activity is part of DOST's contribution to the government's efforts in providing the much-needed services in the far-flung areas of the countryside. "With STARBOOKS, we are hopeful that better access to science, technology, and innovation will be achieved," she added.
STARBOOKS is one of the knowledge products of the DOST-Science and Technology Information Institute (DOST-STII), one of the attached agencies of the department, that serves as the promotion and marketing arm of the DOST.
DOST added that the turnover of STARBOOKS is also the agency's response to fulfill the commitment stated in Article XIV, Section 1 of the 1987 Philippine Constitution, which aims to protect and promote the right of all citizens to quality education at all levels and to take appropriate steps to make education accessible to all.
This initiative, DOST added, is also a part of the Convergence Areas for Peace and Development (CAPDev) Program for the province.
Source: Manila Bulletin website